If you want to cut to the chase and just read this article over at Jacobin, I encourage you to do so.
I'm not super knowledgeable about New York City taxes and real estate, but I'm fairly familiar with the tricks that are described in the article. They're nothing new – it's how the wealthy and powerful game the system (a system which is: designed to be gamed*) to make lots of money by looting the public coffers with the assistance of insider friends that are in on the take, and then avoid paying taxes on it.
George W. Bush did something similar with his purchase of a part ownership stake in the Texas Rangers, as
well as investing in some land that – just miraculously happened to be where the Rangers' stadium was going to be built – then, after the Rangers had appreciated considerably in value, he flipped the whole thing and pocketed a cool $15 million. It's just … how it's done. Hillary's attempt (known now as "whitewater") didn't work out for her but she made up for it since then.  Bush, like Trump, got his money through hard work: he inherited it. So did Romney. It's just … how it's done.
Trump inherited a small amount of money from his dad – and about $40million worth of real estate and other stuff that was arranged so that he could use it as collateral to get bigger loans (they'll lend you a lot if you can put up a $20million hotel as collateral!) The $1million or whatever the cash amount was: that was spending money.
Trump's just epic egregious about how he works the system, because of how real estate works in some corrupt cities. Here's how you do it: you set up a consortium to buy a piece of property, then you tell the city you'll develop it into something Yuge and get a tax break. The politicians usually don't even ask the electorate; these decisions just sort of happen. So, you get Trump buying a broken down landmark hotel and getting a 40 year state tax exemption in return for renovating it – and using the profits to pay down any debt incurred on the renovation. If you own a $10million property you'd expect to pay about $250,000 in state taxes on it – so with soaring New York City real estate taxes the state's 40-year gift to Trump is probably going to be worth about $50million. What did you want, taxpayers, education? Roads? No, you got a hotel.
This is basically the same scam that pro sports team owners play all the time: they get the city politicians (doubtlessly fragrantly greased) to give the team a huge tax-break for developing a piece of land on the premise that it'll "bring lots of money to the community." Mostly, it'll bring: parking lots, traffic jams, and police overtime. Then the team owners wind up with a nice new stadium that they don't have to pay property taxes on, and they probably own all the developable properties they could scoop up nearby. The team with the nice new stadium is worth a whole lot more, and the stadium is worth a whole lot, too, and when the team owners want to buy a private island somewhere, they flip it. Trump has done this over and over again – except not with stadia and football teams: he rolls hotels, casinos, golf courses, pretty much anything he can get the corrupt bosses of the city to give him to develop, then pay him to develop it, and he pockets any profits. What did you want, taxpayers,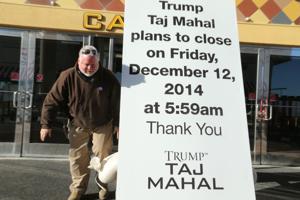 education? Roads? No, you got baseball.
These real estate deals are structured so that they are a guaranteed win for the investor because the taxpayers are the ones that subsidize it and the investors get to keep any value that they can accrue when they finally flip it. If you're ever talking to a capitalist and they tell you about how they earned all that money by taking all that risk: ask them "what risk?" while you curbstomp them.
This is one of the perplexing things about Trump: he claims to be worth billions, but it's hard to figure out. Unlike someone like Mitt Romney who just owns shell corporations, or Hillary Clinton who is part-owner of a foundation (which is basically: a shell corporation) Trump's wealth is tied up in assets. Sure, he's worth loads of millions of dollars, but that's spending money: his main wealth is tax-sheltered in real estate. It's all unrealized profit. Because of the US' cleverly-designed tax structures he probably wouldn't owe any taxes on anything unless he liquidates it and doesn't immediately flip it over into something else.** Trump swims in a sea of red ink because that allows him to be very very rich without actually having a whole lot of money that anyone can touch. I suspect that nobody goes after his taxes because they know how he's set up, and trying to wade through what he actually owes tax on would be like marching to Moscow on foot, in the winter … from Las Vegas.
Trump's probably sitting around with almost no assets at all: he's living in a really tacky penthouse apartment that his company lets him use, he flies around in an airplane some other Trump company lets him use, he runs a campaign on stuff various Trump companies let him use – and he pays his own companies out of the millions that his campaign is collecting. You know why the Koch Brothers hate Trump so much? 1) He's going to take their money and use it to pay himself  2) He's going to expose some of the game that they've been quietly playing for their whole lives  3) He's newer money than they are, and he's as crass as a spitball fired at the Yale Debate Association. But mostly, it's 1).
The reason Trump's not putting out his tax returns is because he probably hasn't
paid a thing in taxes since the 70s. By which I mean: $0. Not "some small number"  Zero.***
Why should he? Yahoo! doesn't. Boeing doesn't. Caterpillar doesn't. etc.  One of the clever things that the capitalists have done is set the tax system up so there are all kinds of loopholes that allow you to grow your wealth indefinitely as long as you don't "realize" profits from it. In other words, if you bought a trainload of Berkshire Hathaway 'A' shares back when they were $10,000 apiece, and you haven't sold them – lets say you have 100 shares: today that's worth $21.3 million but you don't owe any tax on them at all, until you sell them.****
Honestly, I think one of the reasons there isn't more outcry about Trump's financial shenanigans is because all the big shots in Washington are doing it too. Remember when there was a sniff of scandal about Hillary's commodity trading, but it died down pretty quick? That's because the trick that her financial consultant was using to make sure she won all those bets was the same trick that all the big shots in Washington were doing too. It's bad business to "burn" such a useful technique for short-term political gain. All these bloody bastards are in this mess up to their necks.
So, Trump gets a pass. Meanwhile, he's got a bunch of advisors that are all experienced players in the same game that he's been playing. If he wins, Trump's going to move from fleecing New York City and state to fleecing the entire country. It'll be Yuge.
---
See also: http://www.thedailybeast.com/articles/2016/07/13/how-donald-trump-tried-to-cash-in-by-dumping-sewage-into-the-hudson-river.html
(* Designed by: the wealthy and powerful! It's called "capitalism"!)
(** He's already dodging capital gains taxes, and if he realizes any profit he's doing it all at the long-term preferred rate. With the portfolio of assets Trump's got, if he wants to buy a new island or a congressperson, he can sell something he's had for a long time, which locks in the tax rate at a low fixed 15% percentage)
(*** Do you have any idea how bad the scam is? In 2012, Warren Buffet, who's worth $64billion  paid $7million on $40million in taxable income. The trick is "taxable income" – capitalists have arranged it so that pretty much nothing they have is taxable.)
(**** Traditionally, you pass that wealth on to your kids tax-free by establishing something like a Gates Foundation, a Clinton Foundation, a Kennedy Foundation – and endowing it with a bunch of those shares – they still haven't been sold yet so the profit hasn't been realized – then if the foundation is a non-profit, it can sell them and … keep it all. Then you make your frogspawn the managing director of the foundation and the foundation can pay them up to 10% of the total value of the f0undation, annually, as salary. Do the math!)