So, apparently Q has gone quiet since not long after last November's US election. As a result there is a power vacuum, or perhaps "influence" vacuum, since QAnon isn't precisely a hierarchical movement where anyone is overtly or specifically empowered to order others to take action. Whether in practice people have sufficient influence to declare an action needs to be taken and can expect that QAnons, at least some of them, will take that action is a separate question. (And I think the answer to that question is yes.) But call it power or influence, the vacuum exists, and there are many people who covet that power/influence and will pursue it.
For years there have been people who have been influential in the QAnon community who were not themselves directly related to or speaking for Q. I imagine these people gained their vast followings much the same way I gained both my readers: by writing intelligent, persuasive commentary. As it happens, though, Q did not so much write intelligent, persuasive commentary as fragmentary and incoherent musings of a conspiratorial nature.
So in the absence of Q, precisely what kind of writer is going to suck up all the vacuum in the air? (Yeah, that's the metaphor we started with, and I can't change biplanes midstream, so suck it up, people, this is what you get in a post about Q.) That's right: someone writing incoherent conspiracies. And lo! And behold! Just what one might expect to happen has, in fact, happened.
For in the shadow of the valley of Vice it has been revealed that a messiah has come, a prophet named GhostEzra, who comes to rule the denizens of the QAnon world exactly as we would expect. Vice reports that GhostEzra, who now runs one of the biggest if not the biggest of the QAnon accounts with hundreds of thousands of followers, began as upbeat, portraying Trump as the victim of election fraud but also portraying the election fraud as inevitably unsuccessful, something that the QAnons were clearly destined to overturn. But before much time passed, GhostEzra went from being relentlessly upbeat to excoriating followers if they, themselves, were not sufficiently upbeat.*1 It's one thing to tell others, "Have hope!" and it's another to tell them, "I will beat you until your morale improves." GhostEzra, apparently, went all in on the latter.
And GE did not stop there. After more time has gone by and restoring Trump to the throne has come to appear increasingly less likely even to the QAnon faithful, GE's postings turned more pessimistic and ominous. Earlier this month they took a hard turn into antisemitism. This is not to say, of course, that antisemitism is new to Q. Baby snatching, killing children for secret rites, world controlling cabals of the powerful who show innocent faces to the public: the entire edifice built by Q is antisemitic to its core. But in an update of the Protocols of the Elders of Zion mythology, QAnon has never held that all of the baby eating evil overlords are all Jews. Hillary Clinton, after all, is a Southern Baptist. So while the QAnon mythos was entirely antisemitic in character, the villains of their story were not necessarily said to be jewish. Essential antisemitism was part of Q, but Q was nominally not antisemitic, or at least (read "at best") officially agnostic as to antisemitism while sometimes loudly denying antisemitism, in the midst of all their antisemitism.
This was the state of the QAnon world when GE took that hard turn into overt, nominal, even proud antisemitism. As a result of the priming inherent in the Q mythos, it's unsurprising it was well received. This was one of GE's earlier posts during that hard turn: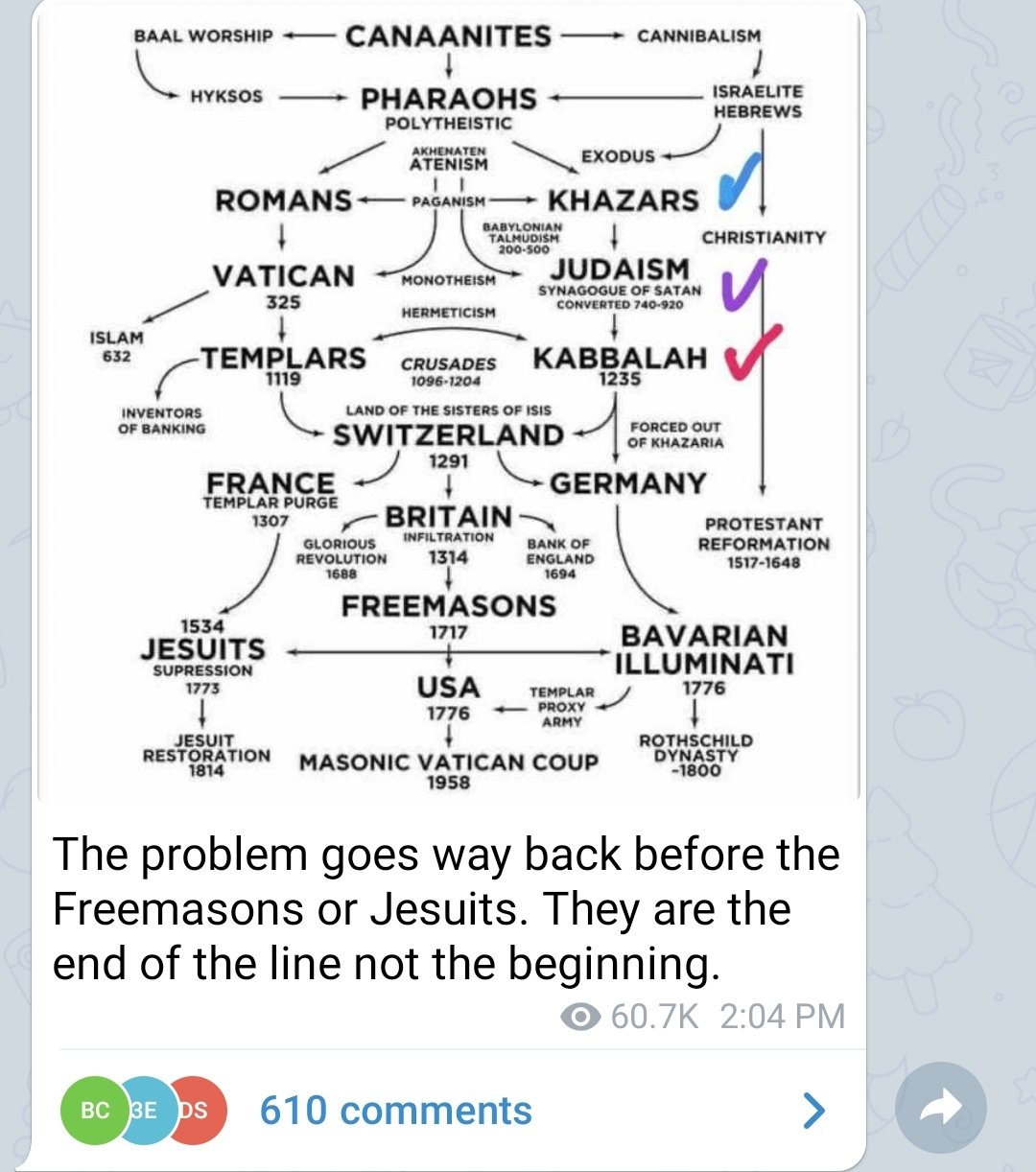 Also this:
Later GE posted links to a film series with which I am happy not to be acquainted. I'll let Vice handle the description:
"Europa – the Last Battle" [is] a 10-part film that claims Jews created Communism, and deliberately started both world wars as part of a plot to found Israel by provoking the innocent Nazis, who were only defending themselves.

Almost all the 4,000 comments responding to the post [of links to the movie] on Telegram are positive, with very few pushing back against the openly racist message.
So how are the longer tenured influencers of QAnon responding to GE's movement into the world of QAnon over the last 6 months? Well, they're decrying the damage GE is doing for certain, but not damage done to race relations or that furthers religious bigotry. No, they're disappointed that GhostEzra is causing QAnon some PR problems with the outside world. As "prominent QAnon researcher" Dapper Gander put it when interviewed by Vice:
If you look at what the other promoters actually wrote, few of them even mention antisemitism, and none mention Holocaust denial," Gander adds. "They also do not correct him. They simply say GhostEzra is a 'disinformation account' that 'discredits the movement.'"
And that is the real joke here. It could hardly be put more perfectly than by QAnon account CJTruth:
Do you see how disinformation accounts hurt our movement?
Yes, CJTruth. Yes we do.
---
*1: Please note that I'm getting all my facts from Vice, since I really, really don't want to make a Telegram account and spend my own precious time reading QAnon blather for hours.