Thought 1:
Though I have been writing about it and many others have too, it's still useful to note this AP story on the double standards in treatment between BLM protesters and Trump's mob. It's well researched and well reported. One useful excerpt:
The violent breaching of the halls of power on Capitol Hill by the insurrectionist mob on Wednesday, which left one woman dead of a police gunshot wound, represents one of the plainest displays of a racial double standard in both modern and recent history.

"When Black people protest for our lives, we are all too often met by National Guard troops or police equipped with assault rifles, shields, tear gas and battle helmets," the Black Lives Matter Global Network Foundation said in a statement.

"When white people attempt a coup, they are met by an underwhelming number of law enforcement personnel who act powerless to intervene, going so far as to pose for selfies with terrorists," it said.
Thought 2: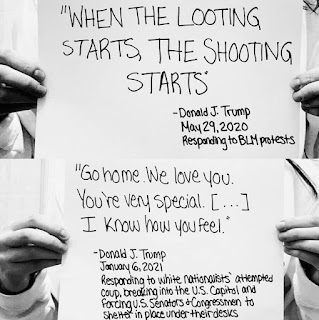 Thought 3: