So Coke is now selling expensive milk. Wut? I have no idea, but it is. And guess how it advertises its new expensive milk.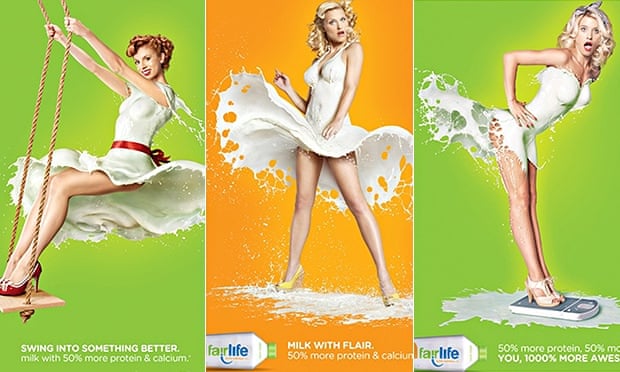 Yuuuuuuuuuum, right?
Laura Bates sees more good old everyday sexism.
Is this milk for drinking, or are you just expected to pour it lavishly over your head as you sit at the breakfast table, pouting sexily at your dry cereal? Why don't men seem to be invited to partake in this new gastronomic experience? And given the enormous levels of dairy wastage likely to ensue, can you really justify charging double the price for it compared to normal milk?

Joking aside, seeing these images of women's bodies being used, once again, to advertise an unrelated consumer product ("Drink what she's wearing") is a tedious reminder that when it comes to the objectification of women in advertising, we seem to be slipping backward instead of moving forward. Yes, there's a tenuous argument to be made that the link is valid if the milk is being promoted as healthy and good for your body, but that doesn't explain the sexualisation of the women, nor the lack of any male counterparts.

This is just the latest in a never-ending stream of examples of women's bodies used as advertising fodder with scant regard for relevance or originality. Examples are tweeted to the Everyday Sexism Twitter account with depressing regularity. Want to promote a new games console? Why not use a headless woman's bodywith two pairs of breasts? Advertising a restaurant? What you need is a picture of a naked woman covered in spaghetti! Trying to spread the word about green electricity? Go for a picture of a sexy woman with a lightbulb in her mouth. Decorating a van to spread the word about your curtain and blind business? Don't forget to pop a lingerie-clad model on there! And everyone knows nothing says "LED technology" like an enormous picture of a woman's naked arse.
Everyday sexism is post-feminist sexism, I guess. We've had feminism, and it fixed all the things, so now we're post it, and sexist advertising is fine again, because we know all about it, and we can always just say it's "ironic."