Missing the point. Damion Reinhardt at Skeptic Ink.
Freezing Peaches at AACON

If you were to Google for "removing the objectionable paintings" as a phrase, it will lead you to (as of this printing) exactly one place on the World Wide Web,  a place where the writers call themselves "free thinkers" and are presently discussing removing three paintings from an art show because said paintings depict women in various states of undress:
Not just missing the point but also distorting – "discussing removing three paintings" sounds as if the terrible people in question were discussing doing the removing themselves, which was not the case.
But the missed point is the more important aspect, because it's so typical (of the genre as well as of Reinhardt's friends and colleagues). No it wasn't "because said paintings depict women in various states of undress." If they had been for instance paintings of people in various states of undress, there would have been no issue. To be minimally fair and accurate, he should have phrased that as "because said paintings depict anonymous women in various states of undress along with famous men as thoroughly dressed as it's possible to be apart from gloves and hat."
But that would have ruined the sneer.
You can see all three paintings in this Storify. The images are not safe for work, unless you work in an art gallery and can therefore be expected to view nudes routinely without turning into a slavering misogynist sex beast.

I would love to write a brilliant post about why censoring these paintings is a bad idea, even in this narrow context, but Russell Blackford anticipated this issue almost exactly a year before the events of this weekend:

Within wide limits, we should all be free to talk about sex, or even joke about it. Book stalls should be free to sell books whose covers have arguably sexual or erotic images, art displays or poster shops should be free to include art with erotic content, etc.

It does seem that in every generation new rationalisations are invented to try to restrict sexual expression and openness. And in every generation, we have to fight this.

Please go read his entire post, and think seriously about whether we atheists want to follow the leads of mullahs and the priests in demonizing human sexuality in general and covering up of artistic representations of the female form in particular.

If you care to support the artist, prints of smiling David Silverman are still available from his website.
The paintings are not about "human sexuality"; they are about male sexuality, and women as objects of same. There's a context here, for fuck's sake. This wasn't a set of pictures of naked people, and it wasn't erotica; it was paintings exclusively of naked unknown women mixed in with fully clothed famous intellectual men. That does not simply translate to Human Sexuality.
Also, it was at the American Atheist Convention. Women were there as well as men: attending and also speaking. Women were participating. But what were these paintings? Famous fully clothed atheist men, and naked women. Where were the famous fully clothed atheist women? Nowhere. What does that look like to the casual (and even attentive) viewer? That men do atheism and women do being naked. Does Reinhardt really see no problem with that at an atheist Convention?
Update: Ahahaha Damion is such a wit. So is "I has gelato" of Twitter. (That's a title. You know, like Princess Henrietta of Monaco.)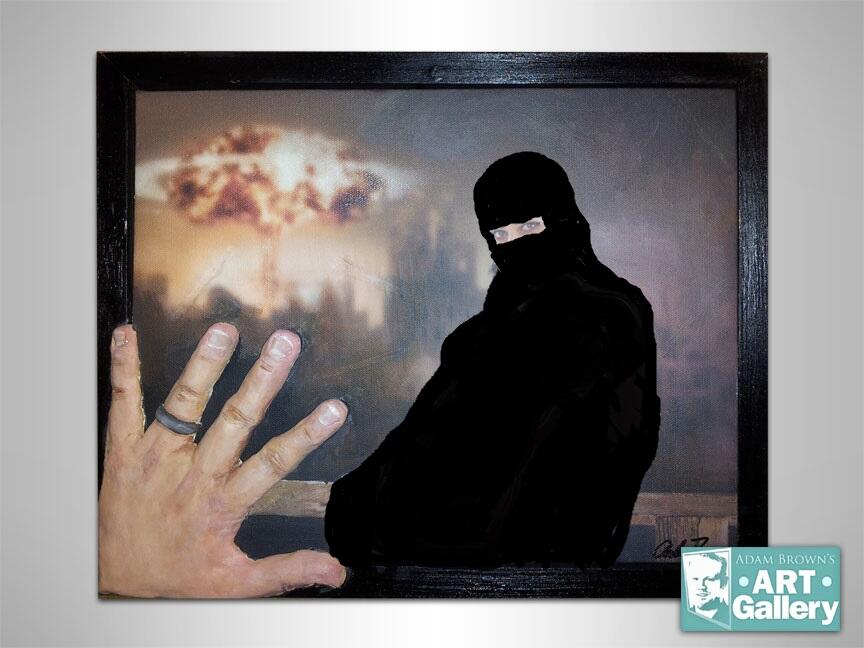 Geddit? I want to put burqas on all the women. Yup.