Ok I'm curious about this "banter" nonsense that I was asking about yesterday, via the BBC Big Questions a week ago that started with a segment on "bloke culture." I'm repulsed by many aspects of this, and one of the main repulsion-sources is the assumption that the natural state of men is loud emphatic unabashed loathing of women, and that rejecting or avoiding that state is an artificial and harmful kind of repression and discipline.
That relies on what Carol Tavris refers to as the hydraulic theory of psychology, in which people are seen as like boilers that need valves to release the pressure so that they don't explode. But people aren't like boilers, and raging at hated others isn't a release valve at all, it's a way of stoking even more rage and loathing, and passing it on to others.
Promoting systematic hatred of sets of people is not a healthy thing to do. Human beings don't have a good history with that kind of hatred. Stoking group-hatreds doesn't end well.
So. What's "bloke culture"? The same as "lad culture" I assume, so I started with that, and found an item from last October. The rugger club at LSE passed out a leaflet at the freshers' fair that was an epic festival of misogyny and other hatreds dressed up as "banter" – a leaflet
in which it described women as "mingers", "trollops" and "slags".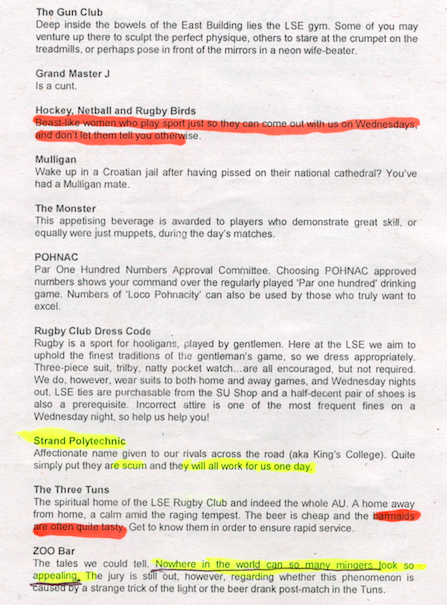 It's odd that the highlighting starts so late, after the bit about "the crumpet" and "is a cunt."
There are further references to "the perfect hedonistic cocktail of barbarism, beverages and women" while and another section suggested a committee member embodied everything the club holds dear: "debauchery, hedonism and misogyny".

The men's rugby club has issued an apology, and says it is organising a workshop for its members, who it says "have a lot to learn about the pernicious effects of 'banter'".
"Banter" isn't some magic word that makes it ok to shit on underlings. It doesn't work like that.
Someone from the club issued a statement.
"The executive committee will cooperate fully with the student union to ensure such behaviour does not take place in the future. As a club, we will be taking steps to ensure that something like this cannot happen again. We have a lot to learn about the pernicious effects of 'banter' and we are organising a workshop for all our members."

It is not the first time the LSE student union has hit the headlines. In January 2012, the university investigated allegations that a Nazi-themed drinking game led to a brawl in which a Jewish student's nose was broken during a skiing trip to Val d'Isère. The trip had been organised by the student union and was attended by 150 students from the university's athletics union.
Hahaha Nazis haha banter hahahaha it just doesn't get any funnier than that.
A women-only meeting is being held on Tuesday at the student union to enable female students to talk about the incident and broader concerns affecting women at the LSE. There is growing concern across university campuses around the country about a culture of misogyny and discrimination – known as "lad culture". A recent National Union of Students (NUS) survey showed more than a third of female students have been subjected to unwanted or inappropriate groping or touching.
Why is it known as "lad culture"? That's one question I have. That makes it sound ok. Why make it sound ok? Why normalize it? Whose idea was this, anyway?
I see from the links the Guardian provides at the end of the story that the rugger club was shut down – so it's like Sigma Alpha Epsilon at the University of Oklahoma. Good outcome, but why is the BBC promoting the kind of thing by burbling about "bloke culture"?