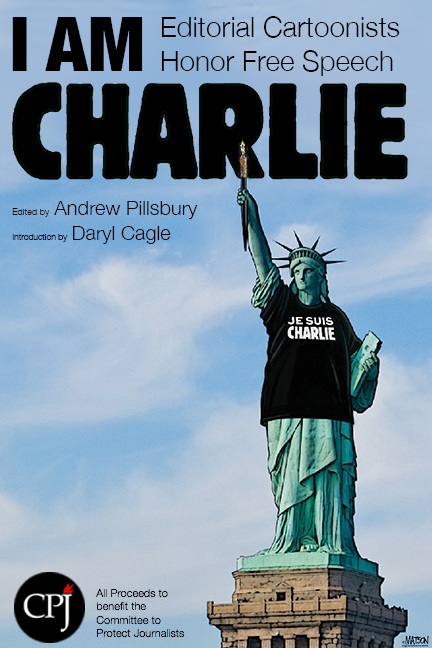 In a poignant and powerful response to the horrific attacks on their colleagues in Paris, the world's top cartoonists have teamed up to produce I am Charlie, a book featuring the top Charlie Hebdo cartoons published around the globe.

All proceeds will go to The Committee to Protect Journalists, the worldwide organization devoted to promoting freedom of the press.

The book, features 86 Charlie Hebdo editorial cartoons created by artists in Europe, the Middle East, The Americas, Australia, and Asia.

Cartoonists represented include Osama and Emad Haljaj from Jordan, Pang Li from China, and Pulitzer prize winning cartoonist Steve Sack from the Minneapolis Star Tribune.

The book features an introduction from Daryl Cagle, cartoonist and founder of the leading editorial cartoon site politicalcartoons.com. The book is edited and published by Andrew Pillsbury, former head of business development at The New Yorker Magazine's cartoon division.

Both the physical and electronic versions of the book will be released February 21, the six week anniversary of the attacks.  The ebook retails for $9.99, the physical book retails for $14.99.
Brill iant.