Huh. So celebrity rapists don't always get to silence all their victims or accusers. Mary Elizabeth Williams at Salon tells us how Bill Cosby hasn't been able to lately.
there was beloved icon Bill Cosby – who's come under fire recently thanks to a new 500-page biography that conveniently omits a 2006 lawsuit and settlement from a woman who claimed he drugged and raped her — and the more than a dozen women who have also come forward with very similar stories. The response to Cosby today is vastly different than it was eight years ago, when the entire case went largely unremarked.

Comedian Hannibal Buress made it part of his routine last month in Cosby's old stomping ground of Philadelphia. "The Queen Latifah Show" announced it was canceling an appearance by Cosby – while insisting the controversy had nothing to do with the abrupt scheduling change.

So as the drumbeat of public inquiry has grown ever louder, the Cos picked a bad time to tell the world "Go ahead. Meme me!" and unveil the hashtag #CosbyMeme. And meme him people did, with hilarious photos of him mugging with captions like "14 allegations of rape? Zipzopzubittybop!" and "I just can't stop puddin' it in other people without their consent." Unshockingly, the 77-year-old has now backed away quietly from making further requests of his followers.
Oh yes? No empty threats of lawsuits? No infinitely verbose bloggers rushing to his defense?
Let's see a few of those memes…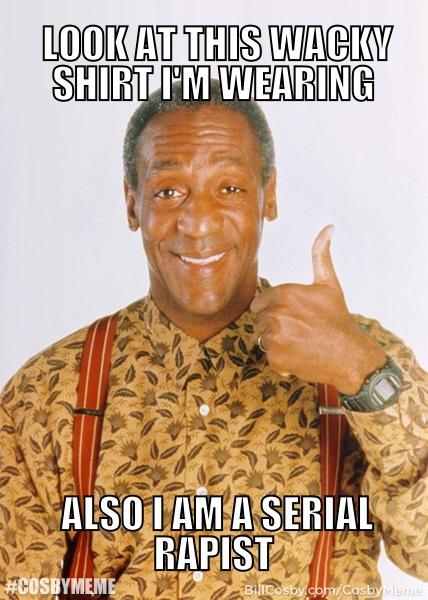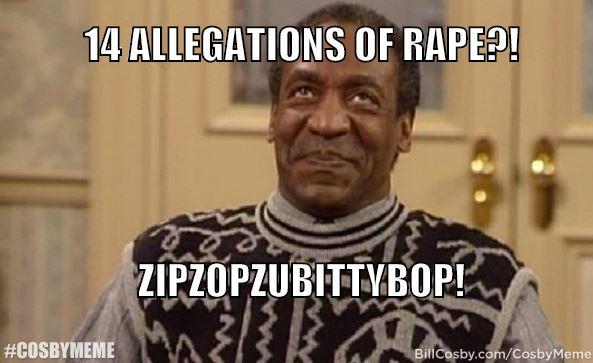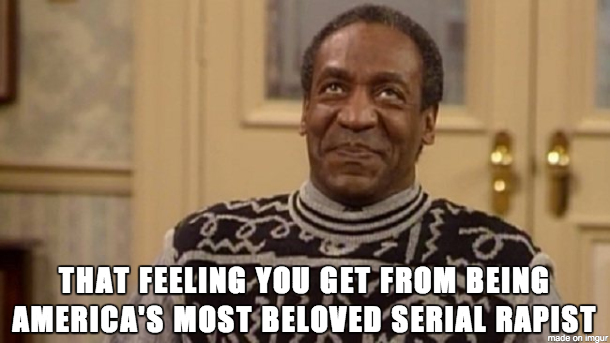 sideshowRaheem @sideshowRaheem
More here, as well as of course on Twitter.
Then she tells the Dapper Laughs story, and sums up:
I could write, literally every day, about men whose apparent loathing for women has been the rocket fuel for their creative inspiration. That these guys get work and can make money while behaving badly isn't going away any time soon. But what gives me the slightest glimmer of hope that the world may be a less horrible place for my daughters someday is that more people are speaking up about this BS. They are calling out the trolls who threaten women, they are having conservations about street harassment, they are urging venues to cancel events hosted by sexist jerks, and they are saying, again and again, that if you behave badly it will be noted and it will not be supported. Last year, Australian Lt. Gen. David Morrison issued a statement on sexual abuse in the military in which he laid it out simply that "The standard you walk past is the standard you accept." We've walked past long enough. And we're not accepting it anymore. So if you have a woman problem, take note, before the joke's on you.
I hope so.