Yeah I already knew that, thanks.
Study: Everyone hates environmentalists and feminists
Of course everyone does. And you know why? Because lots of people work hard to make everyone hate environmentalists and feminists. People who hate feminism and feminists themselves work hard to convince everyone else that feminists are witch-hunters from North Korea. Oil companies and other interested parties hire PR firms to make environmentalists seem like soppy tree-hugging fools who will steal your SUV to plant potatoes in.
Writing in the European Journal of Social Psychology, Bashir and her colleagues describe a series of studies documenting this dynamic. They began with three pilot studies, which found people hold stereotyped views of environmentalists and feminists.

In one, the participants—228 Americans recruited via Amazon's Mechanical Turk—described both varieties of activists in "overwhelmingly negative" terms. The most frequently mentioned traits describing "typical feminists" included "man-hating" and "unhygienic;" for "typical environmentalists," they included "tree-hugger" and "hippie."

Another study, featuring 17 male and 45 female undergraduates, confirmed the pervasiveness of those stereotypes. It further found participants were less interested in befriending activists who participated in stereotypical behavior (such as staging protest rallies), but could easily envision hanging out with those who use "nonabrasive and mainstream methods" such as raising money or organizing social events.
Or writing blog posts and speaking at conferences.
No no no no no no no! That's even more abrasive and not-mainstream than "staging protest rallies." Except that one of the much-recycled indictments of the feminist blogging conspiracy is that it's all slacktivism. Like this for instance: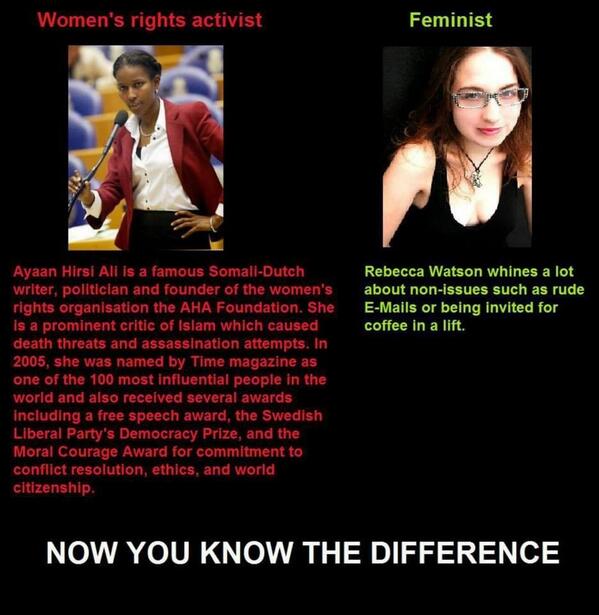 See? Feminist baaaaaaaaaad because she doesn't happen to be Ayaan Hirsi Ali (which she has in common with everyone else in the world except one person, so why it's a rebuke is somewhat mystifying). Feminist does nothing but whine a lot. We hates feminists, precious.
Let's face it: being a feminist is seen as "abrasive" and non-mainstream no matter what we do. The only way we could be "mainstream" enough to change that is to stop being feminists at all, which would suit the people who hate feminism but would rather defeat our purpose (we who are feminists). In other words, no.
This is, needless to say, frustrating news for activists, and not just the ones mentioned here. The researchers suggest this dynamic may very well apply across the board, such as to activities advocating gay rights or Wall Street reform.

"Unfortunately," they write, "the very nature of activism leads to negative stereotyping. By aggressively promoting change and advocating unconventional practices, activists become associated with hostile militancy and unconventionality or eccentricity."

"Furthermore, this tendency to associate activists with negative stereotypes and perceive them as people with whom it would be unpleasant to affiliate reduces individuals' motivation to adopt the pro-change behaviors that activists advocate."

So the message to advocates is clear: Avoid rhetoric or actions that reinforce the stereotype of the angry activist. Realize that if people find you off-putting, they're not going to listen to your message. As Bashir and her colleagues note, potential converts to your cause "may be more receptive to advocates who defy stereotypes by coming across as pleasant and approachable."
And by shutting the fuck up.
No.