WalesOnline reports on theocratic efforts to discourage people from voting:
Stickers encouraging people not to vote because "none have the right to vote but Allah" have appeared in Cardiff.

The stickers have been put up on lampposts around the Corporation Road area of Grangetown.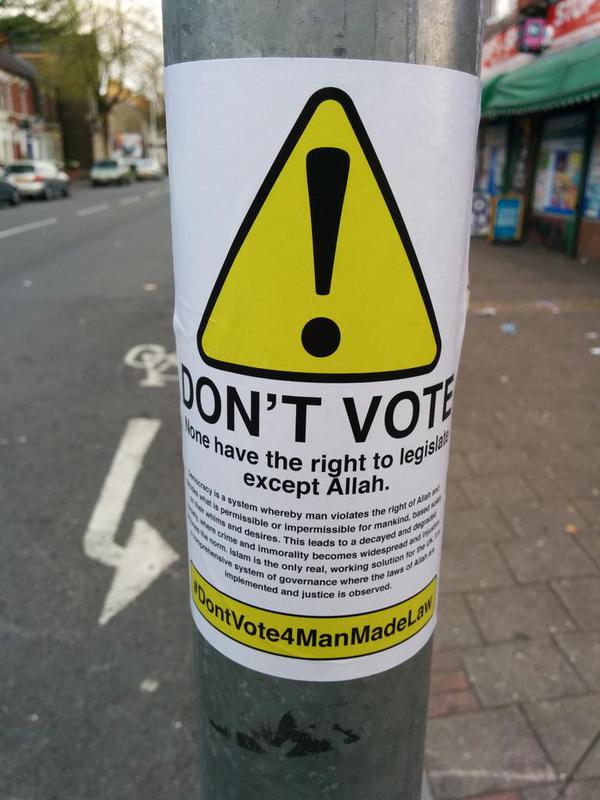 The yellow warning sticker reads: "Democracy is a system whereby man violates the right of Allah.

"Islam is the only real workable solution for the UK".

They carry the hashtag #Dontvoteformanmadelaw.
It also says "None have the right to legislate except Allah."
Oh really. How does that work then? What's the line of transmission? How does Allah tell us what legislation Allah has passed?
If the answer is the Koran, that won't do, because things have changed since the Koran was written. If it's something else – what is it?
Cardiff council's cleansing team have begun to remove the posters.

The council say any religiously motivated or offensive stickers will be removed as a priority.
The BBC also reports, and in its usual mindless way it talks to a "Muslim Council" which is an affiliate of the MCB.
Akmal Hanuk, a trustee at the Muslim Council of Wales, said: "It is not representing the views of the majority of Muslims. I think the majority of Muslims want to vote and will.

"From a Muslim Council of Wales perspective, we encourage them to vote and to have a say in the democratic system."
The BBC could have talked to a liberal Muslim group or person, but as so often, it didn't.