One of the hot social media items this morning is a woman who made a big fuss about a delayed flight because Thanksgiving and a guy who retaliated. The point of the item seems to be that the guy did a great job of schooling the woman. I beg to differ.
Hmm, yeah, I don't.
He tweeted about her. Fine. The tweets are funny, and she's anonymous. But then he sent her a note, and she replied to say his note was not cool, and he sent another.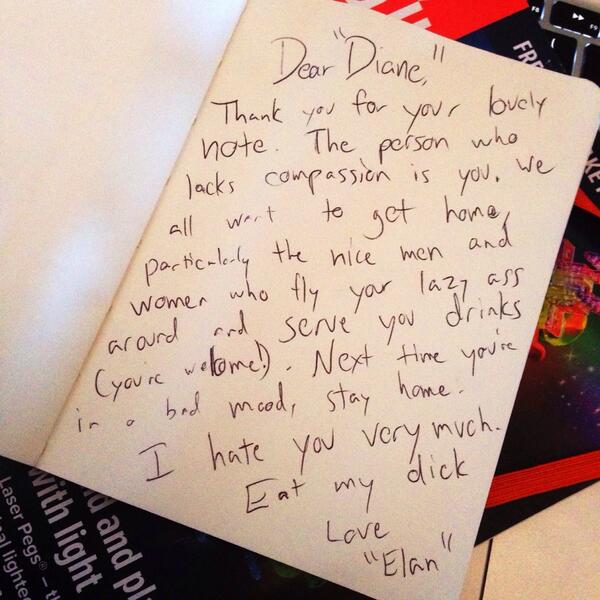 No. That has tipped way over into bullying, and sexist bullying at that. Not cool. And that's before you even see what was posted to the Storify later:
"Diane is my cousin. I want to thank you for not pressing charges against her for slapping you. She would have been arrested for that, and spending a few days in jail would have been a particularly cruel irony under the circumstances. I am a bit surprised you said you could hear her breathing, because Diane has stage IV small cell lung cancer. This would have been her last Thanksgiving with us. I say "would have" because she did miss her connecting flight. She arrived this morning, having spent the night in a hotel in Phoenix. Admittedly, Diane hasn't been handling her imminent death very well, but she really was looking forward to being with us and the rest of her family- all of whom were flying in for one last Thanksgiving with her. In her defense, she was very contrite and upset about her behavior on the plane. Certainly everybody wanted to get where they were going, but perhaps she can be forgiven for thinking that her need was more pressing than most. Thanksgiving has always been Diane's favorite holiday, and her comment about the stuffing is true- she was the "keeper of the family recipe" and all of her nieces were planning to be instructed (one more time) in the mysterious ways of Auntie Diane's stuffing. Since she missed her connecting flight, this did not occur. We are going to try to get as many of the family together as we can tomorrow, but that is up in the air. The plans were all for yesterday. I wish you had known her before she got cancer. You would have loved her. She was bright, funny, and compassionate, and had a self-deprecating sense of humor. She taught elementary music. She loved kids. She loved to laugh. She was everybody's favorite aunt. Actually, she still is"
Not amusing.