Here are four GLBT news stories to warm your heart:
An iconic kiss – take that, DADT:
"Petty Officer 2nd Class Marissa Gaeta, left, kisses her girlfriend of two years, Petty Officer 3rd Class Citlalic Snell at Joint Expeditionary Base Little Creek in Virginia Beach, Va., Wednesday, Dec. 22, 2011 after Gaeta's ship returned from 80 days at sea. It ís a time-honored tradition at Navy homecomings – one lucky sailor is chosen to be first off the ship for the long-awaited kiss with a loved one. On Wednesday, for the first time, the happily reunited couple was gay."
This is how strangers are reacting to public gay marriages: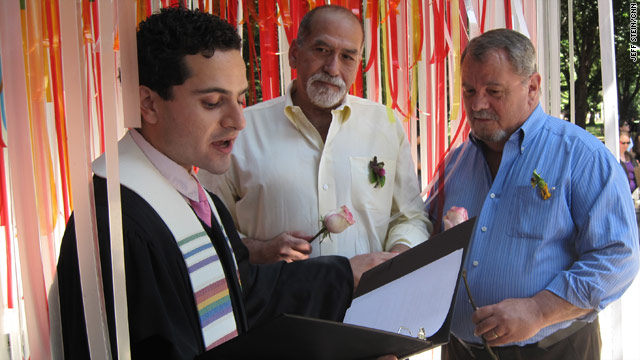 Twenty-four gay and lesbian couples were wed Saturday under two "pop-up" chapels designed to celebrate the first full weekend of same-sex marriage in New York. With every "I do," jubilant whoops and cheers burst from the crowd, a mix of friends, family and passers-by. The weddings, although held adjacent to the commotion of New York City's Columbus Circle, felt comfortably ensconced in Central Park. The event's organizers reported no protests or disturbances throughout the day.
And public gay flash-mob wedding proposals:
And this warms my way in a giddy, sticking it to the hypocrites way:
​The gay and lesbian community of Minnesota has issued a letter of apology to recently resigned Senate Majority Leader Amy Koch for ruining the institution of marriage and causing her to stray from her husband and engage in an "inappropriate relationship."

"On behalf of all gays and lesbians living in Minnesota, I would like to wholeheartedly apologize for our community's successful efforts to threaten your traditional marriage," reads the letter from John Medeiros. "We apologize that our selfish requests to marry those we love has cheapened and degraded traditional marriage so much that we caused you to stray from your own holy union for something more cheap and tawdry."

The letter comes on the heels of Koch's own apology, released yesterday, in which she expressed her deep regret for "engaging in a relationship with a Senate staffer." Although the letter did not specify the identity of the other participant in the "inappropriate relationship," it is widely rumored to be former communications chief Michael Brodkorb, who lost several positions with the GOP in the wake of the scandal.
Zing.