Well, at least this time, they spelled my name correctly.For the second time, Newsbusters has used my article – on gaming culture and same-sex relations – as an example of "liberal bias" in the media. To be fair, that is what they do. As their "About" page states:
[It's] a project of the Media Research Center (MRC), the leader in documenting, exposing and neutralizing liberal media bias.

In August of 2005, with the assistance of Matthew Sheffield of Dialog New Media, the MRC launched the NewsBusters blog to provide immediate exposure of liberal media bias, insightful analysis, constructive criticism and timely corrections to news media reporting.
I'm going to judge from the two examples of "neutralizing" my work: They find an article that defends some kind of liberal position – in my case using sex robots and embracing same-sex relations – then they rewrite almost the entire article. They convey their outrage of the article by arbitrarily using scare quotes – in my case its "tutor in ethics" – and describing such posts as "screeds" and "diatribes".
End post, publish, open comments, get monies.
So much for "insightful analysis" and "constructive criticism". This "blogpost" – see I can do it too – is just a longer version of the comments on the article: weird antagonism that tries to find fault in my position by starting with the premise that homosexuality is a deviance and harms the children.
I'm also uncertain of its comment moderation but the commentors sure do love to make fun of my ethnicity.
From their response to my sex robots piece (click to enlarge):
Yeah, I'm an Arab and I apparently I love fucking goats?
From the latest (click to enlarge):
I don't know what my "real nation" is or why my name is in scare-quotes (it's really annoying now). My nation of South Africa constitutionally supports same-sex relations and marriages, so… I mean, I doubt the majority of South Africans do, so this commenter may have a point. Though it's kind of irrelevant.
But witness: "Insightful analysis"! "Constructive criticism"!
To be fair, you can find such comments almost anywhere; the original, top-of-the-line writers are not commenters. Nonetheless, if I had an opponent I conveyed disagreement with, I'd remove any comments that mocked her sex, ethnicity, sexual orientation, etc. – because that's not contributing to debate or discussion. Of course, neither are Newsbusters in general, but at least they make some attempt to focus on my arguments. (I'd only hope they'd have some kind of moderaton on their comments. But whatever.)
Yes, these are the kind of comments which equate my insistence of same-sex relations being tolerated with wanting to rape children.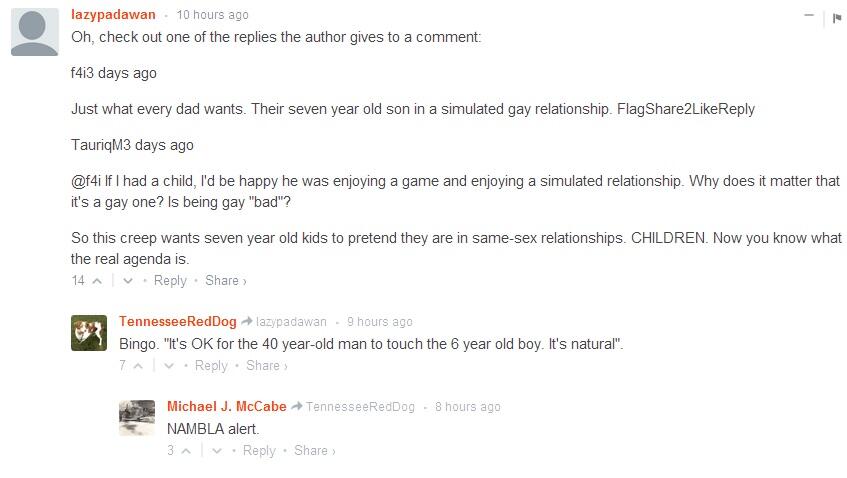 But the worst part isn't even how bizarre, fearful and unfounded the comments are: it's that even on the original Daily Beast post and elsewhere, the comments are the same. That to me is far worse than any conservative blog putting scare quotes over my job titles.
Oh, and if you're wondering about why I mentioned it as being associated with Chuck Norris, check the columnist list.
Yip, that's really him (and Ann Coulter).
Oh well, at least someone is reading me, right?
UPDATE: Love this exchange that uncovers my evil gay plan to gay everyone gay gayly to maximum gay.