And then there are the kimono wars, which I've been ignoring until now.
The BBC tells the story:
Following an uproar of criticism on social media, the Boston Museum of Fine Arts (MFA) cancelled an event that protesters labelled racist and culturally insensitive.

Museum officials announced that they would cancel "Kimono Wednesdays," which was originally scheduled to run until 29 July.

Every week, visitors were encouraged to "channel your inner Camille Monet" by posing in front of Claude Monet's "La Japonaise" while trying on a replica of the kimono Monet's wife, Camille, wears in the painting.

Protesters quickly labelled this event as racist, saying it propagated racial stereotypes and encouraged cultural appropriation.
The MFA posted this image on its Facebook page, though I don't see it there now: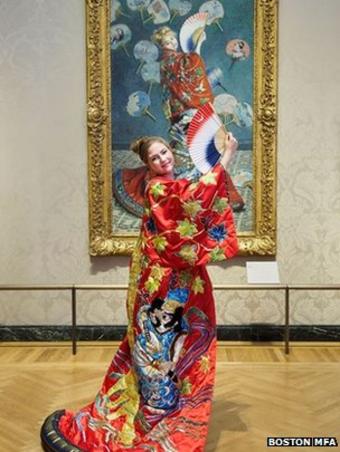 I don't know. I can sort of see finding it dubious, dressing up in the clothes of distant others…but at the same time, can't it also be seen as interest in and admiration of the clothes and cultures of distant others? And is that a 100% bad thing?
The passion for all things Japanese was a big deal in late 19th century Paris, and I have a hard time believing that passions of that kind should just be stamped out. Yes they're probably under-informed and full of naughty exoticism and so on, but…
…but get real, kimonos are incredibly beautiful, and it's not insulting Japan to say so.
What about the manga fad right now? Are the protesters protesting that?