More on the kimono kerfuffle.
Protestors against a kimono try-on event at the Museum of Fine Arts Boston are upping the ante. They have issued an extensive list of demands, following an apology on the museum's website.
A list of demands? It's an art museum, not the Filth and Scum Corporation.
The new "list of demands and charges" from the group, which calls itself Stand Against Yellow Face @ the MFA, is nearly 2,000 words in length. They group is offended by everything from the prospect that the MFA planned to curate the photos resulting from the event for its Facebook and Instagram accounts to the fact that the robe, they say, is an uchikake, not a kimono. (An uchikake is a formal variety of kimono, or outer robe, used in wedding ceremonies.)

They demand that the museum apologize not only on its website but via "multiple media outlets and on social media" and that it explain "why this event is unacceptable."
There's such a thing as making yourself and your cause look silly. I think this group has passed that border and is well into the territory.
"By choosing a painting of a European woman to highlight and to invite the public to dress in her 'kimono,'" they write, "the MFA is continuing in this tradition of exoticizing the 'East' through the lens of a misogynist White patriarchal West while contributing to the invisibilization and erasure of the AAPI [Asian American and Pacific Islander] experience."
But is it? Is that what it's doing? Yes, the kimono is apparently seen as exotic, but that by itself isn't automatically terrible.
Asian-Americans are not united on whether the event is even culturally insensitive, much less racist.

Japanese-American blogger Keiko K., for her part, has published an epicblog post of her own defending the event. Thoughtful and extensively sourced, it's nearly 5,000 words, and well worth a read.

…

She goes on,

I'm not so sure the Japanese take La Japonaise that seriously. San-X produced a dango-wielding La Japonaise Rilakkuma stuffed animal with a duck warrior on the kimono to sell at the museums in Japan where Looking East [a traveling museum show] was exhibited (viaRilakkumaLifestyle). It's sort of an absurd art mirroring life mirroring art—the French borrowing from the Japanese who have borrowed it back and made it something kawaii.
Bahahahaha so it is.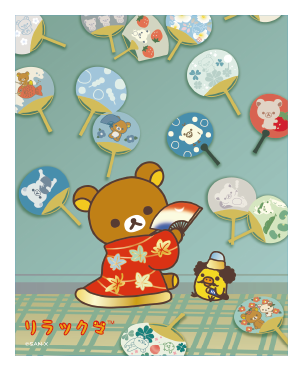 Take that, Camille Monet, and you too, Claude.