Checking in on Twitter…That photo of the Greenpeacers standing around with their stupid yellow message is at the top of my page, and I stared at it some more, with a new or refreshed feeling of…something…
…something, it occurs to me, very close to a sense of profanation. Of something "sacred" being violated and profaned by a hostile external doesn't-belong element. Everything in me screams GET OFF as I look at it. GET AWAY FROM THERE.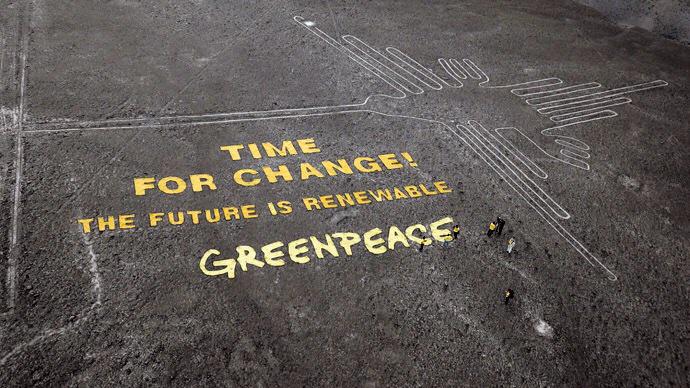 It's more aesthetic than sacerdotal, though. The hummingbird is so arresting and stark and beautiful – that cheap yellow clutter is just an outrage next to it.
But it's not purely or solely aesthetic. There's added weight because of whatever (unknown) meaning the lines had to the people who made them and shared in them. There's added weight because of what things of that kind generally do mean to the people who made them and shared in them. Or maybe it's not exactly that (since the meaning found in contemporary religious artifacts around me doesn't tend to inspire me with anything)…maybe it's more like that plus distance plus not knowing. I suppose if I knew the lines stood for some kind of dreary accounting system with the gods, much of this awe would dissipate. But I don't know that, so the awe remains.
Anyway. I just think there's something odd, and not in a good way, about people who can be happy making something so ugly right next to something so beautiful – who can be happy making a beautiful thing ugly by carefully placing their garbage in its embrace.