I've occasionally mentioned here and on twitter that I have a bizarre obsession with America's Next Top Model. I don't give a crap about fashion or modeling, though I can appreciate when the show occasionally produces artistic photos. I just love to hate it. And ANTM never fails to come up with new, amazing ways to be terrible:
The weird vocabulary (smeyes) and catchphrases (I'd put it in my salon!)
The typical reality TV type of humiliation. You mean modeling doesn't usually require being set on fire or covered in bees?
The hyper drama and nonsensical screaming between the contestants that makes me feel good about myself because I'm not them
The inevitable stupidity that spews forth when they send the models who know nothing about world politics, geography, or culture to a foreign country
The fact that the show is comically bad when it comes to feminism and body image. Yes, those size 10 girls with perfect figures are certainly "plus sized," and Tyra will teach you how to eat healthy but then throw you off the show if you gain a pound.
With Cycle 18 starting comes a new adventure. This cycle's theme is "British Invasion," with half the girls being Brits and half of them being Americans. And there's some cultural battle or something. I hate to admit it, I kind of like it because the Brits also seem to be shocked and appalled by the behavior of the American girls, and they articulate their shock using delightful British slang.
But that's not the interesting part. There's a new milestone this cycle. Mariah Watchman is ANTM's first Native American model, having grown up on the Umatilla reservation in Oregon. And what's the first thing the producers make her do?
Dress up as Pocahontas.
Yes, you read right. ANTM has their first Native American model, and they immediately stick her in a tacky Pocahontas costume.
Let me put this costume in perspective for you so you understand how utterly flabbergasted I was when I was watching. The theme for the photo shoot was "Culture Clash," where iconic figures from the UK and USA faced off. The pairings were:
George Washington vs. Queen Elizabeth
Janet Jackson vs. Scary Spice
Madonna vs. Elton John
Michelle Obama vs. Margaret Thatcher
Andy Warhol vs. Amy Winehouse
Jackie O vs. Princess Diana
Let me pause for a minute to reiterate that one of the models dressed up like MARGARET THATCHER.
With her buddy Michelle Obama. About to jump on a trampoline.
Anyway, I digress. Who was Pocahontas paired with? Who was the British equivalent the ANTM producers came up with?
John Lennon.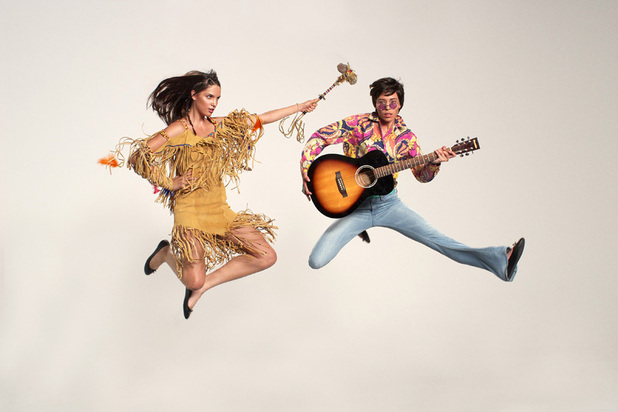 No, I don't have an explanation for what Pocahontas and John Lennon have in common.
Yes, they gave Pocahontas a tomahawk prop. A TOMAHAWK.
My roommate and I were in utter disbelief. It's not like ANTM is known for its racial sensitivity (remember the blackface episode?). But did the producers really not see the blatant problem with this? In case you need it spelled out, here's what Adrienne had to say at her blog Native Appropriations:
She went on the record with an interview with her hometown newspaper discussing the choice as well (which was a choice of the producers, not her own), saying:

"As soon as I heard what the competition was, I knew that's who I would be. I was completely fine with it. There's no one else I'd want more to portray. It's someone everybody knows."I think this is completely a reflection of the sad, sad state of our society if a proud Native woman feels the only "iconic figure" that "everyone knows" of her race is a 12 year old who was famous for "saving" and marrying an old white dude, and then becoming a Disney character. Awesome.

The choice of the producers to have her portray "Pocahontas" is straight up offensive too. Let's pigeonhole the only Native contestant by forcing her to don an extremely stereotypical outfit and be an Indian. The thing that stood out to me was that Mariah was cast into a race-based role, while the other pairings had plenty of (relatively progressive) race-bending. George Washington, Elton John, Jackie O, and John Lennon (all white) were portrayed by models of color, which I thought was kinda cool. But, because Mariah's heritage is her "exotic" selling point for the show, the producers felt the need to exploit it.

Then the outfit they put on her. Oh the outfit. It looks like they bought it straight off thepocahottie halloween page--fake buckskin, primary colored feathers, plains-style beading and designs, braids in her hair. And, the kicker, a tomahawk. Yes, a tomahawk. History lesson, ANTM: Pocahontas was from Virginia, and none of those stereotypes apply to her people. So basically they did what everyone seems to do when they want to "honor" Indians–drew upon every Hollywood Indian stereotype without any regard for historical accuracy, regionality, or how effing racist it is to make the only Native girl basically dress up in blackface.
The cherry on top of this absurdity sundae was the judging panel. The judges insisted that Mariah "had a very easy thing to do" because she's a Native American portraying a Native American, and that she should have done a much better job. Because, you know, all Native Americans are the same, and she didn't portray Pocahontas close enough to their stereotypical notion of how Native Americans act. They couldn't "see the angst."
That's what being Native American is all about. Angst and tomahawks. Gah.