It seems like I've been on a trend of ranty/serious blogging lately. While I enjoy reading the discussions that go on in the comments, they also start to drain on me after a while. So, here, have something silly:
Me: Will you take my picture? I want a before shot, while I'm still female
Friend: Sure. No, pose more girly.
Me: Kay
America's Next Top Model, I am not. I can totally imagine Nigel telling me that my hand looks like a claw or Tyra saying I'm not smizing enough (yes, I fully expect you all to shun me for watching that stupid show). Oh, and sunburn from our Pastafarian preaching, yay!
But then the clock struck 8, and instead of turning into a pumpkin, I turned into…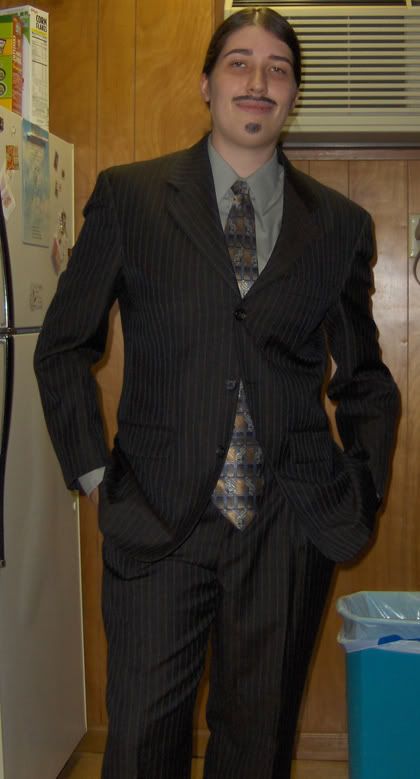 …a skeevy used car salesman! I mean, a male! Actually, with my hair down I looked eerily like Penn Jillette, which would explain my magic trick of making my D-cups disappear.
Yes, Friday night I held a drag party. I think that's an acceptable excuse for not blogging.