Sure enough, it's not just Target. I just checked my local Bartell's, which is a big drugstore chain around here. I found the asthma section, which had only three items, two apparently medical and one also apparently medical unless you were actually looking for the homeopathic version. This is what it looks like: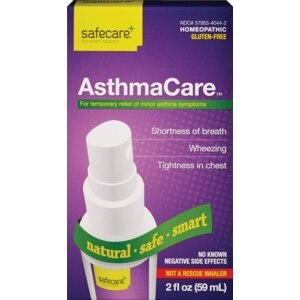 If you're not specifically looking for homeopathic bullshit, you're likely to think that's actual medicine for asthma. I wasn't sure which it was at first. The banner saying "natural-safe-smart" and the bit about "no known negative side effects" seemed likely, but I had to turn it over to confirm that it's "homeopathic." People who don't know better WILL THINK IT'S MEDICINE.
It's horrifying.
It does include a warning, but then so does the version that apparently does contain some medicine. The warning doesn't include saying for instance "this stuff doesn't contain any active ingredient, it's not medicine, it's frankly just water."
If you Google safecare asthmacare, as I just did, you get a bunch of places that sell it, including Walgreen's and CVS. You can find its page at CVS, where it costs $22.99. (I think it was $16.99 at Bartell's.) You get its blurbs.
Homeopathic. The smart medicine. For temporary relief of minor asthma symptoms: shortness of breath, wheezing, tightness in chest. Natural, safe, smart. No known negative side effects. Not a rescue inhaler. A physician-based company established in 1989. 300 sprays per bottle. Approximately 100 adult doses. Taste-free, purified water base. No known negative side effects. No known negative drug interactions.
It's fucking fraud, and it could easily kill people who are naïve or desperate enough to buy it thinking it really is medicine, just as it claims it is. This is asthma we're talking about.
I talked to an employee about it. He said he would talk to his bosses in the pharmacy. (I gather he works in the pharmacy but isn't himself a pharmacist.) I don't suppose that will make any difference, but they should at least be made aware.
It's far from being only Target. I wish it were only Target.