I am infuriated beyond words at the ignorance and incompetence of US voters more than I am towards the fact that Trump, like Shrub, got less than 50% of the vote.  This was preventable, and the DNC actively did things that caused it to happen.
What could have been, and now will never be.  Sorry, Bernie.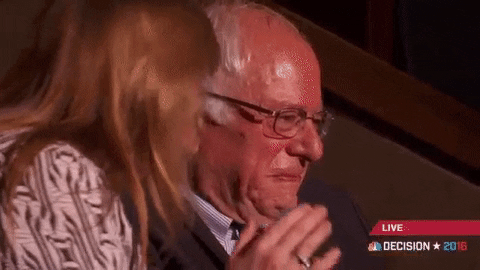 A few months ago, PZ Myers asked everyone to hold their nose and support Clinton because not doing so or criticizing her helped Trump.  While I agreed with that assessment, I chose silence.  (I'm Canadian, so I'm not a voter.)  But now that the election is over, it's time and important to talk about how things came to be and what needs to be done.
The democratic party "leadership" needs to be held accountable, and probably removed.  Bernie Sanders's candidacy was a protest against the establishment, against Clinton who was the choice of the 1%ers and Wall Street.  The DNC "leaders" actively acted against him in favour of Clinton, perhaps engaging in actual sabotage of his campaign (financing, publicity, support, etc.).
How many millions of protest votes went to Trump because Clinton was forced upon the populace?  How many might have voted for Clinton if she had won legitimately over Sanders and the DNC had not shown deliberate bias?  We will never know, but we do know that the DNC's decision to foist Clinton on US voters and prevent any other candidates from winning is likely what killed any chance for her to win, not her scandals.  As some republicans openly stated early this year, the democrats had an open door to the White House and threw it away by choosing Clinton, the least viable candidate.
One of my biggest fears is that Trump will quickly realize how overwhelmed and incompetent he is for the job and quit, handing the presidency to Pence.  That would mean three or seven years of extremism that makes Shrub look like a moderate.  Or worse, if Trump quits after two years, Pence could be elected twice, meaning as much as ten years of his "leadership" if the US swings that far right.
In the 1990s, common rightwing rhetoric said, "Communism was the 20th century experiment that failed".  One could now say that the US is the two century experiment that failed.  Like the Soviet Union, the US may soon be wiped from the page of time and have to start over again.