A new private bus company in Cardiff had a fantastic wink-wink nudge-nudge idea for advertising its all-day fare.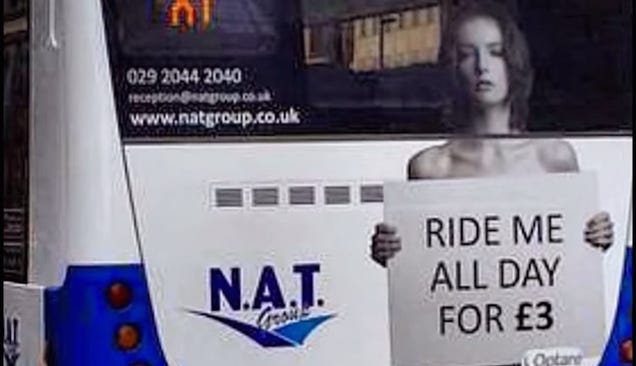 What?
Yes, she's a young woman; yes, she could be naked behind that sign she's holding, and her bare shoulders seem to suggest that; yes, the sign says RIDE ME ALL DAY FOR £3; but none of that means she's suggesting you can ride HER for £3. She's speaking for the bus! Obviously!
The Mirror reports that there was widespread irritation, and that the bus company deleted its tweets and said jeezis it was just a joke.
New Adventure Travel said this morning "there is no-one available here to comment on this today," before telling the Mirror Online to call back tomorrow.

But within three hours of launching their new service, the company said in a statement: "In view of the reaction to our bus advertising today we wish to set out our position: Firstly we have stated that our objectives have been to make catching the bus attractive to the younger generation.

"We therefore developed an internal advertising campaign featuring males and females to hold boards to promote the cost of our daily tickets.

"The slogan of 'ride me all day for £3', whilst being a little tongue in cheek, was in no way intended to cause offence to either men or women and, if the advert has done so then we apologise unreservedly. There has certainly been no intention to objectify either men or women. Given the volume of negativity received we have decided to remove the pictures from the back of the buses within the next twenty four hours."
Well quite. How could there be anything at all contemptuous of women in that ad? I just can't see it, no matter how hard I squint, can you?