The Reason
This old fart needed to get with the program and buy a digital camera; so I broke down and got a pretty good one for use during my trip to Hawaiʻi in November. That will include a round trip on Amtrak's California Zephyr through the Sierra Nevada and the Rockies, both in daylight, the latter including a ride along the southern bank of the Colorado River through Glenwood Canyon. On the return trip, I also hope to catch the lights of Denver way down below after exiting the Moffat Tunnel a bit after dark.
Some folks might also find interesting the mostly open-air KOA airport and the quick rise from sea level in Kailua-Kona up the mountains of the Big Island.
---
The Sale
On my way to my chemotherapy appointment today, I stopped by a camera store in St. Louis County, Schillers Camera, that's not far out of the way. It didn't get off to a really good start, though:
Me: Would it be possible to find a digital camera on which I could use some screw-on lenses from my 50-year-old Pentax 35mm SLR?

Sales clerk: LOL!
Actually, he was very polite and understanding; but the clear answer was "not easily and probably not worth it"; so in addition to the regular lens, I'll probably want a shorter lens and a fisheye for taking pictures of my bedroom on the train, and a moderately long zoom for scenes outside the train. Another requirement is the ability to copy the images directly to my laptop without going through anybody's "cloud".
The camera is a Canon EOS Rebel T7. I opted for the "Premium Kit" which came with two lenses: an 18-55mm zoom, which is supposed to be wide angle to normal, and a 75-300mm zoom, that should be good for shots of the train from outside and views of the mountains in the distance, along with some niceties like a camera bag and a battery charger. I also bought an 8-16mm fisheye zoom just in case I need a super-wide angle for pictures of my Zephyr room from the inside. Are all lenses zooms these days?
---
The Test
So here's a trial run just to make sure I remember how to take pictures. 😎
I'm also learning how to copy the images to my laptop. With one exception, that was really easy…just pull the SIM card out of the camera and stick it in an adaptor that plugs into a USB port on the laptop. On Windows, it magically comes up as drive D:. I haven't tried to mount it on my Linux partition yet. (Friday, 08:00: just plug the SIM card and its adaptor into a USB port and it magically shows up as a mount point on Ubuntu Linux.)
The problem was that I couldn't get the SIM card out with my fingers. Fortunately, the Infusion Center's lab had a small hemostat that they graciously allowed me to use for the purpose. I have a really small hemostat at home that will now become a regular part of my camera equipment. 😎
The entrance to the Cancer Infusion Center is next to the emergency entrance;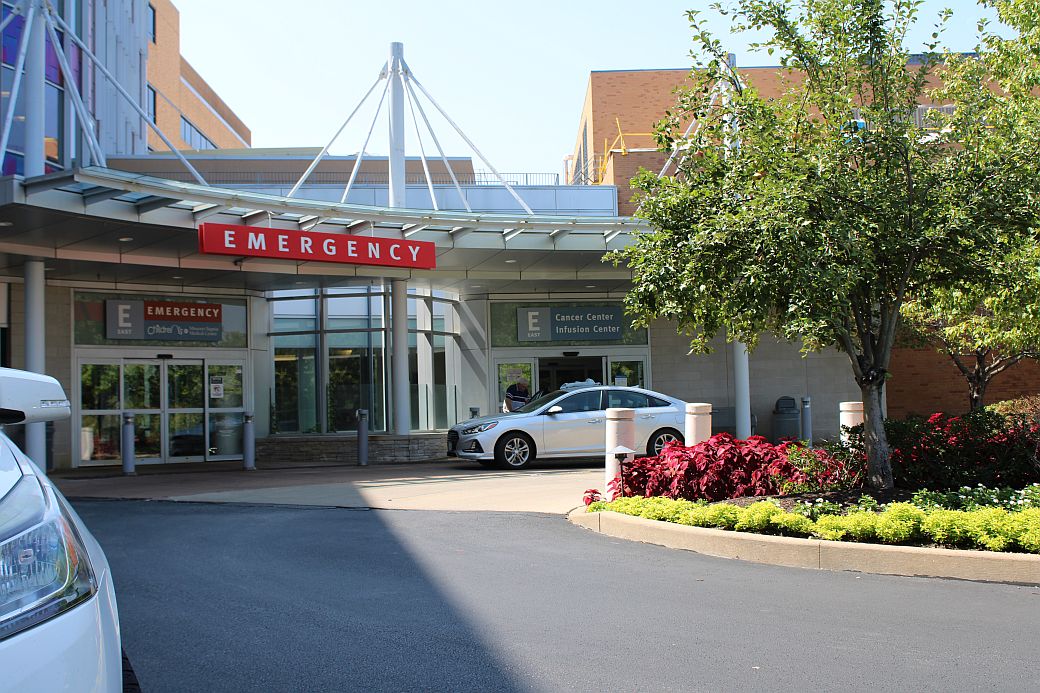 but I don't normally use that.
[trying out the fisheye] I park in the main garage (on the left), not far from the main entrance (on the right), so that I can leave my car out of the sun or rain.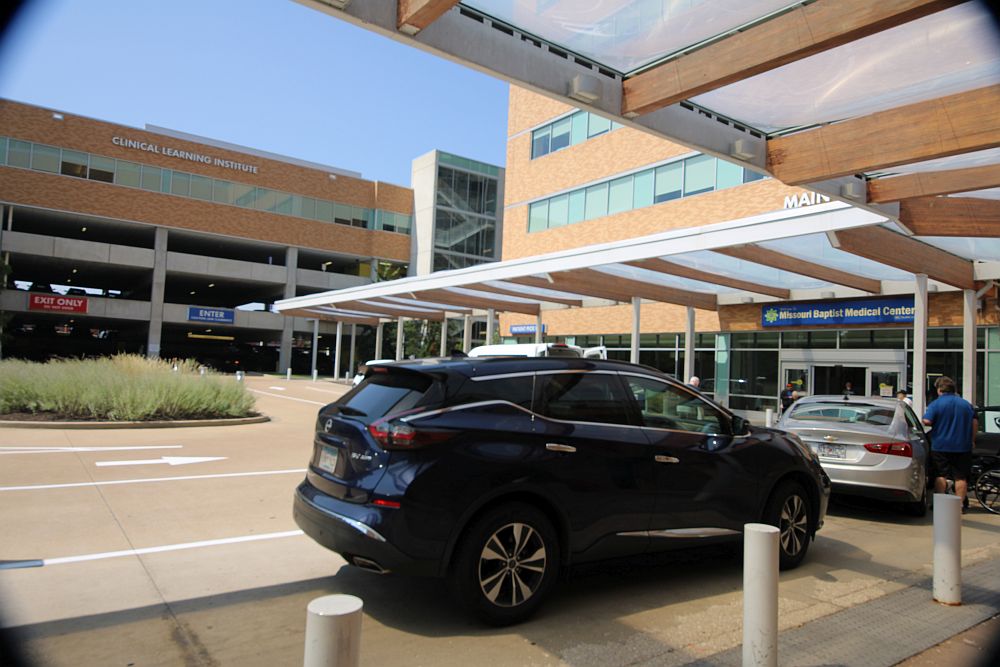 From there, I have just a two or three minute walk, all under cover, to where I'm supposed to check in.
When they get around to me for treatment, I'm supposed to sit in what is thought to be a comfy chair while I get my drugs;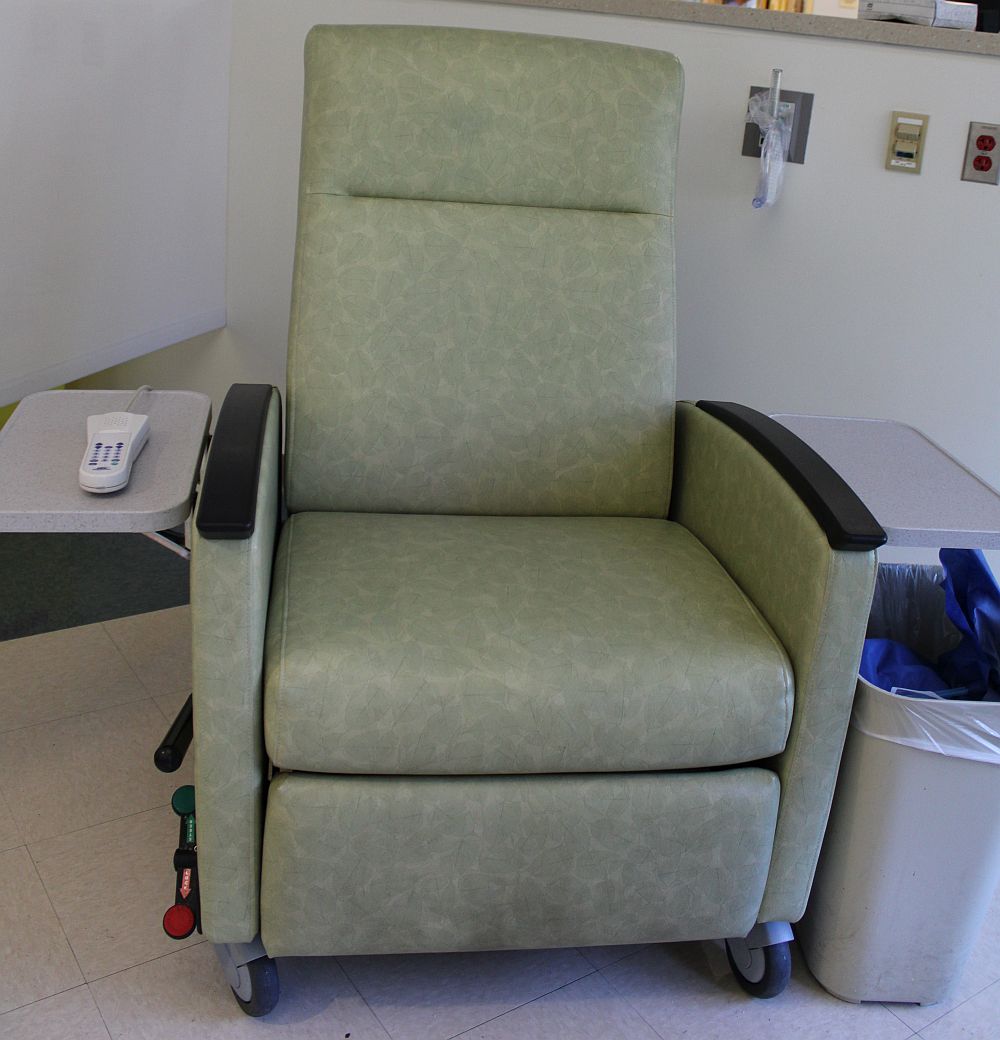 but the nurse said that it would be OK for me to sit in a regular chair to write this post; and she graciously provided me with one of those bedside tables that they have in hospitals.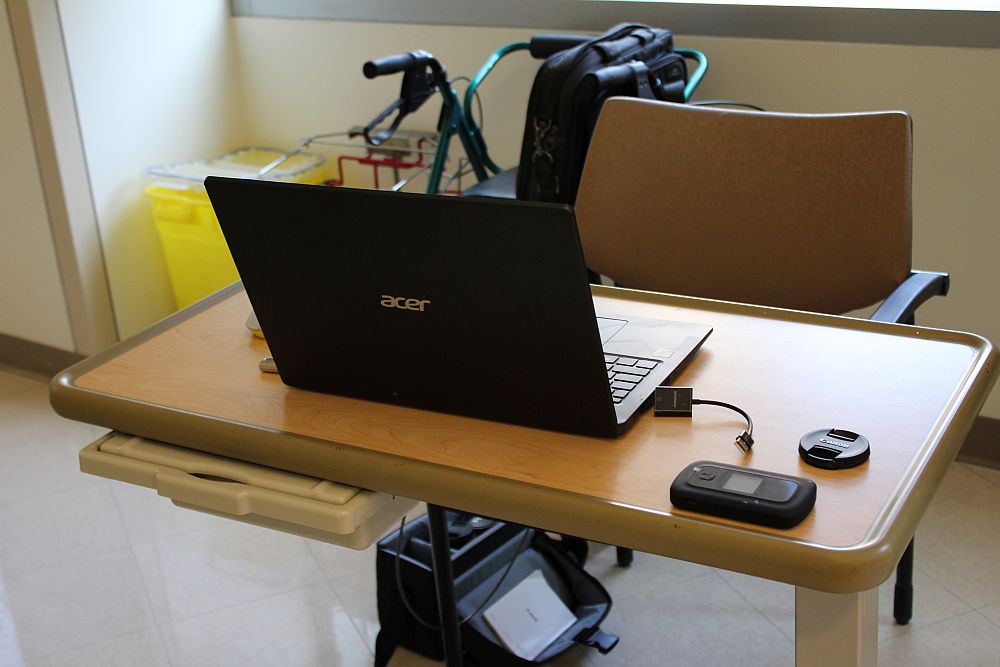 (The boxy thing that connects by a short cable to a USB plug is the SIM card adaptor.
The black box with a button on the viewer's left is my Verizon WiFi hotspot.)
I hope to have more interesting photos to show you in the future, at least by the time of my November trip.