I wrote an article about Gamerbro-types owning up to their own politics and social agendas – instead of making boring, obviously false assertions like "We just wanna play games", "Keep politics out of games", etc. Why am I comfortable enough to play and review games, and also talk about my own view of politics and social issues, but my "critics" are not?
Why is it OK to mention the number of pixels but not the low number of people of colour? It's never been explained but we can all start having proper discussions when such folks own up to their views; just admit "I find race issues boring", "It makes me uncomfortable to confront sexism".
That's so much more honest, so much more fruitful than trying to silence us with "make it about games" – when, for me, so much of diversity issues is seen in games. It is about games, for me: Telling me to keep quiet about race in games is telling me not to experience games. And if you don't want to read about my experience of games, don't read my reviews. These people are not babies, but for some reason this needs to be explained.
Regardless, a very boring commenter went on a verbose rampage, trying to drown us all in words – because, I guess, mortality isn't an issue when you have an endless spawn option. I mean just look at this Niagra fall of words!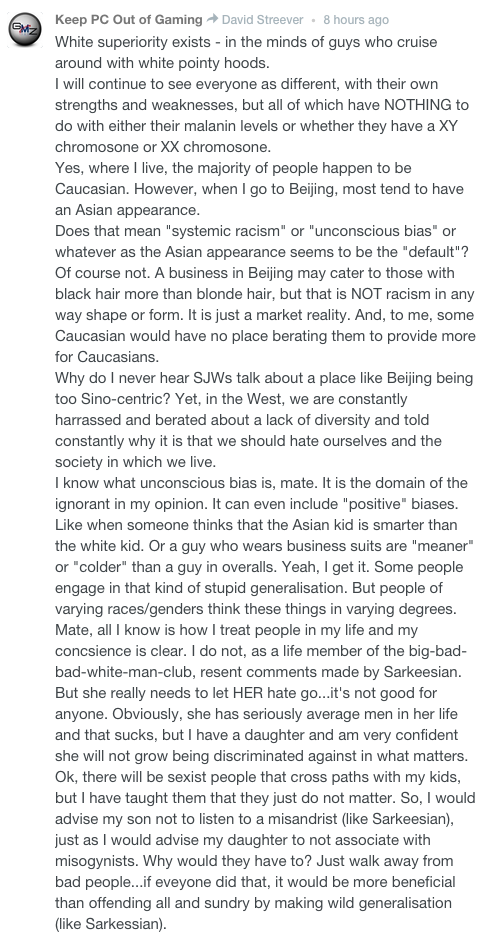 I'm working some things out, so here's a fisk.
White superiority exists – in the minds of guys who cruise around with white pointy hoods.
Confusing racist's view of the Master Race versus ubiquitous oppression experienced by people of colour, which sees white people benefitting above others.
I will continue to see everyone as different, with their own strengths and weaknesses, but all of which have NOTHING to do with either their malanin levels or whether they have a XY chromosone or XX chromosone.
*Melanin.
And, er, good for you, mate?
Yes, where I live, the majority of people happen to be Caucasian. However, when I go to Beijing, most tend to have an Asian appearance.
Fascinating. But… er. What? That's not the issue. Presumably you'd find more women in women's football? But that doesn't mean there isn't a culture of sexism and misogyny in football (and many contact sports culture).
Does that mean "systemic racism" or "unconscious bias" or whatever as the Asian appearance seems to be the "default"? Of course not. A business in Beijing may cater to those with black hair more than blonde hair, but that is NOT racism in any way shape or form. It is just a market reality. And, to me, some Caucasian would have no place berating them to provide more for Caucasians.
Uh oh. Dude… no….
Why do I never hear SJWs talk about a place like Beijing being too Sino-centric?
?
Yet, in the West, we are constantly harrassed and berated about a lack of diversity and told constantly why it is that we should hate ourselves and the society in which we live.
This is an example of people taking criticism of a system that hurts everyone to mean criticism of them for their race or gender. A culture that's hostile to women and persons of colour doesn't make you a racist or sexist because you're a white male; it's highlighting that, in this fucked up system, the ones that tend to be hurt the least by oppression are white men. People at the forefront trying to change white male dominance in games are white men – see all the major corporations pushing for diversity.
The response to people wanting diversity isn't to view it as an attack on you personally, but an attack on the system that perpetuates disgusting racial imbalance.
When you make such offended claims, you're reiterating the point the rest of us are trying to make: It's not about you.
I know what unconscious bias is, mate. It is the domain of the ignorant in my opinion. It can even include "positive" biases. Like when someone thinks that the Asian kid is smarter than the white kid. Or a guy who wears business suits are "meaner" or "colder" than a guy in overalls. Yeah, I get it. Some people engage in that kind of stupid generalisation. But people of varying races/genders think these things in varying degrees.
Eh…
Mate, all I know is how I treat people in my life and my concsience is clear.
*Conscience.
Just because someone doesn't feel troubled doesn't mean they're right: it just means they're untroubled.
I'm constantly troubled by the things I say or do, about who I'm making uncomfortable. I'm quite certain I've never been a racist or sexist recently – though, I was most definitely a sexist whiny pissbaby a few years ago. But good for you for, er, having a clear "concsience".
I do not, as a life member of the big-bad- bad-white-man-club, resent comments made by Sarkeesian.
The system, dude, not all the dudes in the world who happen to have the identity that suffers least.
But she really needs to let HER hate go…it's not good for anyone.
I like that the person receiving death threats must be the one to let go of hate; not the angry men who hate her.
I like that a person criticising video games and spending much of her life doing so is on a mere hate campaign: not, as she states constantly, about making games better through reasonable criticism. Guess what? I don't agree with much of what she says, but I'll be damned if the medium I love hasn't matured enough to comfortably have that conversation. I'll take one Sarkeesian over any number of boring, unfunny, straight white guy YouTubers making baby noises at the screen.
Obviously, she has seriously average men in her life and that sucks
Yeah, "obviously". Also: what the hell does this even mean? Your only response to her criticism is she has crappy men in her life? Not… you know, a proper response to her claims? But an unfounded judgement on the "men in her life"? Very mature.
, but I have a daughter and am very confident she will not grow being discriminated against in what matters.
I have no words.
Ok, there will be sexist people that cross paths with my kids, but I have taught them that they just do not matter.
What.
Sorry.
What.
So I guess the sexism that perpetuates hiring practices, science, business, sports, tech, games, will just… magically vanish because you say "they just do not matter"? Sorry, but when a sexist boss is doing hiring and your daughter wants a job, it will matter when this sexist prick thinks "women aren't as smart as men"; it'll matter when a science department funds research for male scientists over your daughter's longer research; it'll matter when politicians make laws about reproductive rights that control your daughter's body.
So, I would advise my son not to listen to a misandrist (like Sarkeesian),
Oh please.
just as I would advise my daughter to not associate with misogynists.
I don't associate with racists, but you should probably have a look at American police right now. My not associating doesn't stop it from happening; it doesn't stop me living in a country that hasn't shaken of the shackles of systematic racism. Putting your hands over your eyes doesn't make problems disappear; and yet this is what you want to recommend to your kids.
Wow. I can see why you hate those of us who want the world to be better, instead of only wishing it were so.
Why would they have to? Just walk away from bad people…
Yes, because all bad people in the world are thwarted by merely walking away. I'll be sure to try that the next time someone tries to stab me, like they did two years ago.
if eveyone did that, it would be more beneficial than offending all and sundry by making wild generalisation (like Sarkessian).
I'm going to generalise now: Your worldview is myopic, obtuse, and belongs at the end of a mop, not in the head of a functioning human who is a parent to a girl.