More from Ann Elizabeth Mayer's long article A "Benign" Apartheid: How Gender Apartheid Has Been Rationalized.
Taking advantage of the failure of CEDAW expressly to rule out any culture-based justifications for gender discrimination and playing to cultural relativist sympathies, states have frequently resorted to culture to defend discriminatory laws and policies. For example, many Muslim countries have entered reservations when ratifying CEDAW, saying that they must qualify their obligations in order to uphold Islamic law and speaking as if it were obvious that women's rights had to be sacrificed where conflicting religious precepts were at stake.87 Appeals to Islam may be used in combination with appeals to the complementarity thesis, with claims being made that countries are obliged to treat women in ways that
recognize women's different nature and the different roles that women should play, ideas that are often linked to religious teachings that are imbued with patriarchal ideas. For example, Morocco included language in its reservation to Article 16 of CEDAW giving men and women equality in the family, saying: "Equality of this kind is considered incompatible with the Islamic Shariah, which guarantees to each of the spouses right and responsibilities within a framework of equilibrium and complementarity in order to preserve the sacred bond of matrimony;" and Egypt in reserving to the same article said it was doing so in the interests of upholding Islamic law in which "women are accorded rights equivalent to those of their spouses so as to ensure a just balance between them."88

87 See Rebecca Cook, Reservations to the Convention on the Elimination of All Forms of Discrimination Against Women, 30 VA. J. INT'L L. 643, 687-91, 694-95, 701-06 (1990); Belinda Clark, The Vienna Convention Reservations Regime and the Convention on Discrimination Against Women, 85 AM. J. INT'L L. 285, 291, 299-300, 310-12, 371 (1991); Jane Connors, The Women's Convention in the Muslim World, in FEMINISM AND ISLAM: LEGAL AND LITERARY PERSPECTIVES 351-71 (Mai Yamani ed., 1996).

88 For a discussion of the Moroccan and Egyptian reservations, see Ann Elizabeth Mayer, Rhetorical Strategies and Official Policies on Women's Rights: The Merits and Drawbacks of the New World Hypocrisy, in FAITH AND FREEDOM: WOMEN'S HUMAN RIGHTS IN THE MUSLIM WORLD, 106-13 (Mahnaz Afkhami ed., 1995).
Which is exactly like the Cairo Declaration on Human Rights in Islam, which adds a reservation to nearly every right of the form "as long as it complies with Sharia" – which of course makes many of the rights completely empty and worthless.
Although reservations by which Middle Eastern countries have sought to excuse themselves from compliance with various CEDAW provisions have been vigorously criticized by advocates of women's rights and have also provoked objections from some other states parties, the international community has taken no effective steps to curb such reservations. One reason is that attempts to deter the practice of reservations in conflict with the object and purpose of CEDAW have met with resistance in the form of
accusations that these were tantamount to Western attacks on Islam and/or the Third World.89 An attempt made in 1987 by the CEDAW Committee to examine the basis for reservations that used Islam as the grounds for non-compliance in a study "on the status of women under Islamic laws and customs and in particular on the status and equality of women in the family" resulted in a strong diplomatic backlash.90 Muslim countries quickly rallied to stop this project, intimating that the CEDAW Committee was engaged in cultural imperialism and attacking Islam.91
Does that sound familiar? Jaw-clenchingly familiar? Yes it does. It's what Maryam gets told all the time. It's what got Taslima's tv serial shut down when mullahs said it might hurt someone's sentiments, even though the serial is not about religion. It's what makes ostensible feminists and progressives passionately defend the hijab from criticism, always including that stupid cartoon –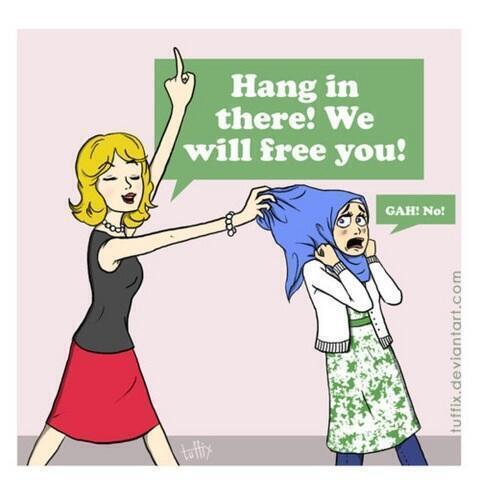 – as if criticism of the hijab were exactly the same as snatching one off someone's head.
The study was abandoned in the face of concerted pressures from Muslim countries, proving that it was not hard to mobilize effective opposition to CEDAW by using claims grounded in Islamic culture and religion. After this episode, one appreciates that the fear of inflaming Muslim opinion may inhibit initiatives to curb the practice of CEDAW reservations that are made under an Islamic rubric. Reviewing this situation, one scholar has noted that CEDAW effectively seems to have a lesser status than other human rights conventions, being treated more as a statement of intent than as a set of internationally binding obligations, and that the culturally-sensitive nature of the content is a factor influencing countries to see CEDAW more as rhetoric than as international law.92

92 See Clark, supra note 87, at 285-86.
It's a very bad arrangement.