I was on a plane or in an airport much of March 9, and busy the rest of the day, so I missed the Freedom From Religion Foundation's full-page ad in the New York Times. The ad is a good thing.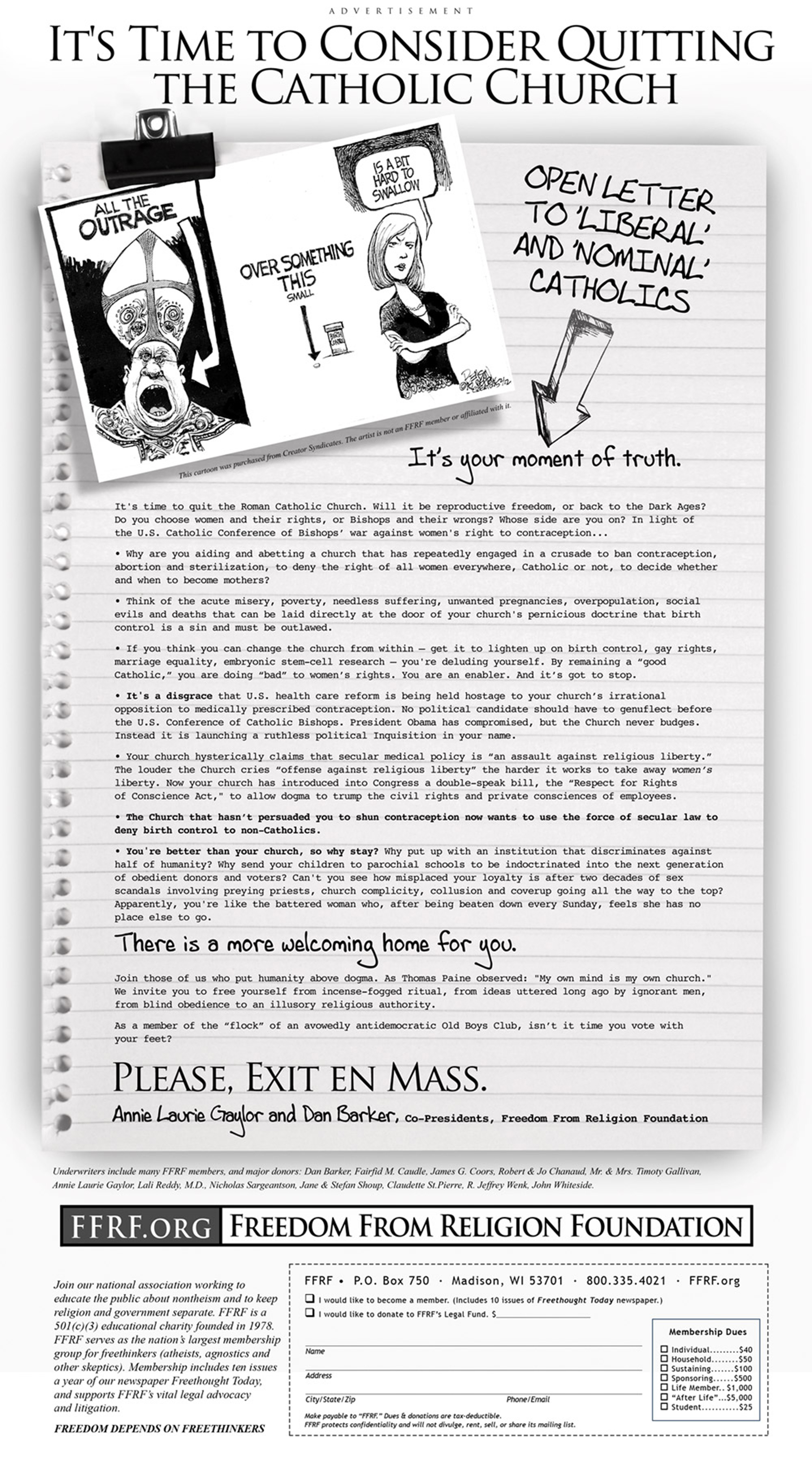 Before the ad, there was an open letter.
Dear 'Liberal' Catholic:

It's time to quit the Roman Catholic Church.

It's your moment of truth. Will it be reproductive freedom, or back to the Dark Ages? Do you choose women and their rights, or Bishops and their wrongs? Whose side are you on, anyway?

It is time to make known your dissent from the Catholic Church, in light of the U.S. Catholic Conference of Bishops' ruthless campaign endangering the right to contraception. If you're part of the Catholic Church, you're part of the problem.
Why are you propping up the pillars of a tyrannical and autocratic, woman-hating, sex-perverting, antediluvian Old Boys Club? Why are you aiding and abetting a church that has repeatedly and publicly announced a crusade to ban contraception, abortion and sterilization, and to deny the right of all women everywhere, Catholic or not, to decide whether and when to become mothers?  When it comes to reproductive freedom, the Roman Catholic Church is Public Enemy Number One. Think of the acute misery, poverty, needless suffering, unwanted pregnancies, social evils and deaths that can be laid directly at the door of the Church's antiquated doctrine that birth control is a sin and must be outlawed.
Damn right. This was one thing my co-author and I agreed on when writing Does God Hate Women? It doesn't work to claim to be liberal when you're helping to sustain a reactionary woman-hating institution; you should get out.
No self-respecting feminist, civil libertarian or progressive should cling to the Catholic faith. As a Cafeteria Catholic, you chuck out the stale doctrine and moldy decrees of your religion, but keep patronizing the establishment that menaces public health by serving rotten offerings. Your continuing Catholic membership, as a "liberal," casts a veneer of respectability upon an irrational sect determined to blow out the Enlightenment and threaten liberty for women worldwide. You are an enabler. And it's got to stop.
That. That, that, that.
By the way the ad's headline should be "It's Time to Quit the Catholic Church" but the Times made them change it to "It's Time to Consider Quitting" – the worms.