I'm working on a 15 minute segment of my talk for the Freethought Alliance Convention in Orange County in a couple of weeks. I've talked about this topic before, but I've never tried to sum it up so quickly, so I figured I'd help get the writing going by putting it in blog format. If you're in Southern California and would like to attend, you may not want to read this as it will constitute a spoiler. 🙂 Hope to see you there!
If someone demands extraordinary evidence for my nerd credentials, I should only have to mention that I was in my high school chess club. Got a couple of very minor trophies. My dad taught me to play at a very young age, and I taught my son to play in turn. I've also taught several other people to play, including my childhood friend Gil, who later went on to coach his local middle school chess team.
When we were kids, Gil had this annoying habit of always trying for a Scholar's Mate. For anyone who's unfamiliar with this tactic, a Scholar's Mate looks like this:
In a nutshell, this is the fastest way to end a chess game without the loser deliberately playing like a complete idiot. It happens often at low skill levels. Chess is a very intricate game involving positional advantage and strategic piece exchanges and so forth, but a player aiming for a Scholar's Mate will ignore all that and just play very aggressively, trying to trick the other player into getting trapped in a quick loss before many of the pieces have a chance to come out onto the board. It's pretty satisfying for the winner, and very embarrassing for the loser.
So of course I'm embarrassed to say that I lost to this tactic. I lost to it more than once. And it made me mad. You know what they say: Fool me once, shame on you; fool me four times, I'll never show my face again.
Getting mad is a predictable way for a novice player to react, but getting Scholar's Mated should also be a learning opportunity. The truth is, this play is really not very good. Anybody who's played chess for more than a short time should recognize it and be able to counter it immediately, and once white fails to get a quick mate, he's in a somewhat bad position. His strongest piece, the queen, is out in the middle of the board right from the beginning, where it can be chased around by weaker pieces, and that wastes time that he could be using to take control of the center. This is a real "all or nothing" play: You take a big chance, but if it doesn't pay off, you're in a generally losing position.
However, some players don't learn that lesson. There's a word for this type of player in the professional video game circuit — and for you older readers, yes of course there is a professional video game circuit. The word is "scrub." A scrub is a very special kind of bad player. We all start out as new players, and new players are naturally bad at games until they get the hang of them. But a scrub is a person who won't learn the game, because they are constrained by their own set of mental rules. For instance, a scrub might get caught by a scholar's mate, and just say "That's totally unfair! Chess is a stupid game! Scholar's mate always wins! I refuse to play with you if you're going to use that cheap move!"
This is the kind of player who will never learn anything. Instead of just recognizing the weaknesses of the Scholar's Mate, he just gives up. Even if you don't initially understand what its weaknesses are, one easy way to learn is to work with the assumption that the Scholar's Mate is unbeatable, and use it yourself. Just do what my friend Gil did, and play a Scholar's Mate in every game. One of two things will happen. Either you will always win, in which case, great! You've mastered chess! You can beat everybody! Or, you will lose. But if you lose, you will now know how to beat Scholar's Mate! Just do whatever your opponent did, and you'll never be caught off guard again!
This is how you learn and grow in a competitive game. A lot of my thinking in this regard has been influenced by a book I read years ago called Playing to Win by David Sirlin, who not only changed the way I think about playing competitive games, but also gave me the insight that a lot of competitive things we do in our day to day lives really operate on the same principles. Like arguing with Christians, for example. I'll get back to that later.
Games that you play against other people are interesting in a different way than, for example, playing solitaire, or playing a single player game like Super Mario Brothers. In a competitive game, you always have a teacher who is giving you examples that might show you a better way to play, i.e., your opponent. If you make a mistake, your opponent will show you how to capitalize on it. If you think you have an unbeatable strategy, your opponent will teach you its flaws. You never learn as much from winning as you do from losing.
I got an interesting sort of revenge on my friend Gil. Years later, I taught him how to play an online game called Starcraft II. I also taught my son to play. Starcraft II is a very fast paced game that is a little like chess, in the sense that you control an army, but it runs in real time and the characters use guns, spaceships, and weird sci fi powers. For instance, one unit called the Dark Templar has a permanent cloaking field.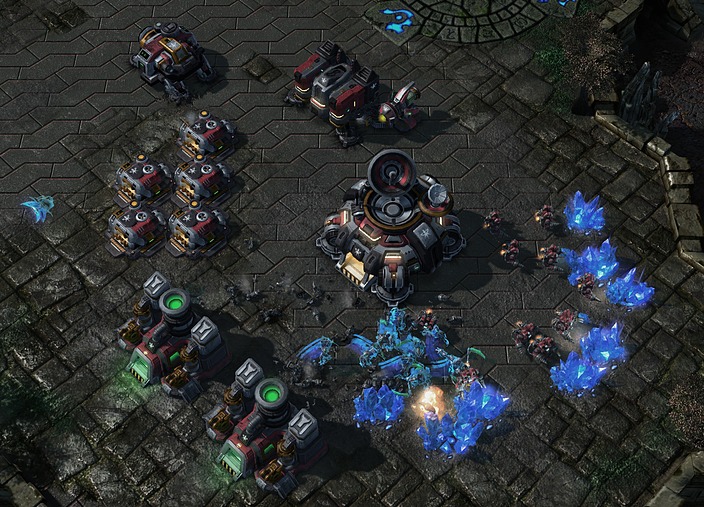 Here's a picture of a group of Dark Templar overrunning the base of some poor humans who didn't build enough cloak detection devices. Because the human units can't see the invisible enemy units, they're free to tear apart the workers without any opposition. As it happens, this is how I watched my son crush my friend Gil, two games in a row, years after we played chess together.
Just like a Scholar's Mate, using invisible units feels very unfair to novice players of Starcraft. They seem impossible to beat. But if you try playing a lot of games this way, you'll eventually run into opponents who build defensive towers that reveal your units, use their scanners effectively, or build mobile detection units. You'll also find that cloaked units are intentionally designed to be pretty fragile, so once they're detected they're easy to kill.
This is one example of the way in which a game like Starcraft is balanced. There are lots of tricky moves that you can take advantage of if you understand how to use them well. But these moves also have limitations, which you discover by playing to win and getting beaten by a smart opponent.
Playing to win is a process of repetition and practice. It is not enough to just play the game over and over again; you have to actually pay attention to what your enemies do, figure out which tactics are easy to beat, and which are worth borrowing. To bring this back to a topic that atheists care about, arguing for a position in a way that changes minds works very much the same way. When you argue with someone you have a few goals in mind. You might want to change the mind of the person you're talking to; or you might want to persuade another person who is listening to the conversation and might not have made up his or her mind. Either way, you need to be strategic about the way you present your arguments.
Often, well meaning scientists or political activists will fall into the trap of thinking "Because I am saying things that are true, all I need to do is present the facts, and I will win people over to my side. The only reason some people don't believe in, for instance, evolution, or global warming, or the obvious nonexistence of God, is because they just haven't heard what I had to say yet."
If I could give one piece of advice to my fellow truth seekers, it would be to stop doing that. You don't win this game just by showing up. Yes, having the truth on your side is one kind of advantage. And don't get me wrong, it's a pretty good advantage. As we learn from the scientific method, true statements are repeatable, testable, reliable, and consistent. Which is great, but that's not the only reason people have for believing things.
They may believe things because they are emotionally appealing. Or because they've been conditioned to agree with what their friends and family believe. Or there are false ideas which appeal to their vanity, like for instance: "I am one of the few smart people in the world who truly understands the scope of the government conspiracy that is all around us." There are thousands of things that motivate people to believe something, and unfortunately "truth" is only one of them.
But on the flip side, if I could give a second piece of advice to my fellow truth seekers, it would be not to give up. I often hear people saying "Why do atheists ever have debates? It's a waste of time, no one ever changes their minds." That's ridiculous. Of course people change their minds. All the time. Where did all these atheists come from? You can't all be lifelong atheists like me.
Being good at rhetoric works. It influences people. Professional debaters like William Lane Craig, and hand-wringing authors like Josh McDowell, understand this principle very well. That's what keeps them motivated to do what they're doing. They know that if they argue well then they can influence people even if they don't limit themselves to saying things that are true. A noob gamer gets angry and makes excuses when losing to invisible units, or a cheap aggressive chess opening. A smart player who is simply new to the game will use every loss as a learning opportunity, figuring out what her opponent did that she can borrow and make use of, and which aspects of the opponent's technique are actually easy to beat with the right strategy. Arguing against a clever creationist is no different. You practice, you incorporate the best techniques, you improve over time, and then you win.
I'm not advocating that you lie to people. I'm suggesting that you should learn the lies, research your opponent's position, actively seek out the very best historical arguments against your own position. Ideally, you should be capable of arguing the other side so well that you can make the cosmological argument convincingly yourself; you learn to be a totally persuasive presuppositional apologist. You present the argument from morality so well that you can correct other people who are arguing from morality badly. You can read the Bible. You can thoroughly research key verses, strictly for the purpose of deconstructing them and making them thoroughly impossible to use against you.
The Internet is a wonderful tool for learning factual information, but it's so much more than that. It can provide you with an endless supply of opponents and teachers, who will do you the tremendous favor of finding your weaknesses, and helping you play to win.