Grave matters at Reading University. Grave and worrying similar matters in London too.
Yesterday at the London School of Economics' freshers' fair, the atheist society manned their table wearing t-shirts which bore images from Jesus and Mo, a popular atheist web strip satirising religion, principally Christianity and Islam.
It's justified to grimace in anticipation when cartoons of Mohammad come up. Fear not: Jesus and Mo is nothing like the Jyllands-Posten cartoons from 2005 – funnier, cleverer, lacking the xenophobic undertones and simply better. I don't know which images were used on the group's t-shirts, but here are a selection of past favourites.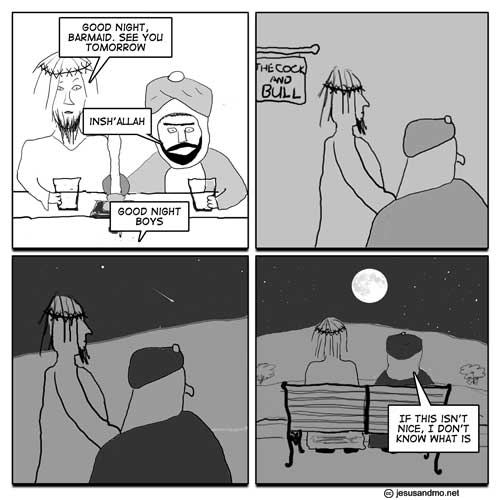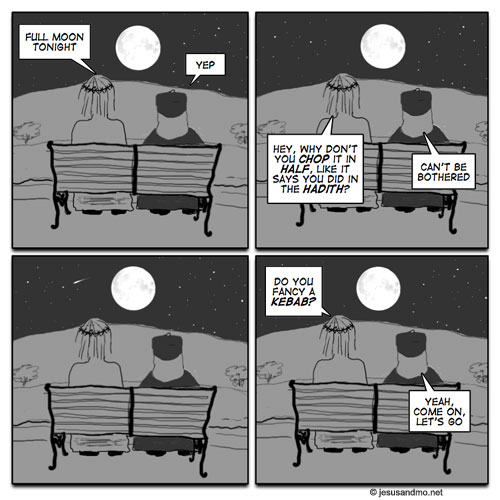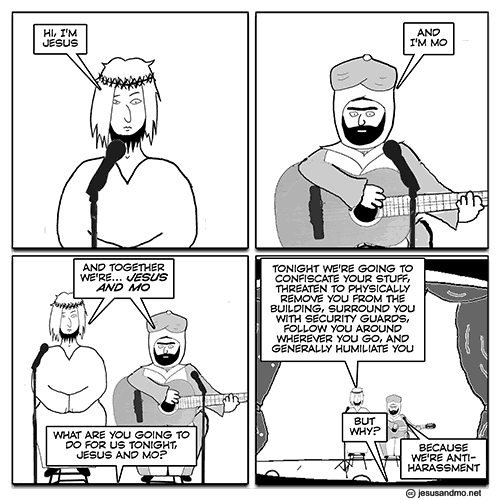 That last one, I regret to say, refers to what the t-shirts prompted. They were worn, other than for purposes of humour, in response to LSE student union's actions last year. To quote the NSS's summary:
In 2012 the LSE Students' Union effectively made blasphemy an offence following protests from Muslim students about a Jesus and Mo cartoon posted on the LSE Atheist, Secularist and Humanist student group's Facebook page.

The LSESU passed a motion proposing that 'Islamophobia is a form of anti-Islamic racism'. The Union resolved "To define Islamophobia as "a form of racism expressed through the hatred or fear of Islam, Muslims, or Islamic culture, and the stereotyping, demonisation or harassment of Muslims, including but not limited to portraying Muslims as barbarians or terrorists, or attacking the Qur'an as a manual of hatred".


It said it would take a firm stance against all Islamophobic incidents at LSE and conduct internal investigations if and when they occur.
Ostracisation and demonisation of British Muslims is, to be absolutely sure, a serious problem. It is not solved by overly broad proscriptions which silence critique of beliefs and empower the Islamist far right. LSE's atheists no doubt think similarly, which is why they donned the t-shirts. Here, according to their official statement, is what happened next:
At around noon, we were approached by LSESU Community and Welfare Officer Anneessa Mahmood, Anti-Racism Officer Rayhan Uddin, and Deputy Chief Executive Jarlath O'Hara and several others who identified as LSESU staff.

Without explanation, Anneessa Mahmood started removing material from the stall. When challenged, she claimed that it was "offensive". In addition, the LSESU staff members demanded that we remove our t-shirts. We were told that should we not comply we would be physically removed from the premises. When we asked for the reason for this request, the LSESU officers stated that several students had complained about our t-shirts. When we asked what rules or regulations we were in breach of, they told us that they did not need to give reasons for removing students, and we would be informed at a later point in time. As we refused to take off our t-shirts or leave without appropriate explanation, we were told that LSE security would be called to physically remove us from the building. We came to the Freshers' Fair to promote our society to new students. Our ability to do that was heavily curtailed by the actions of the LSESU staff. We especially felt that the abrasive behaviour of the LSESU staff was not aimed at protecting other students from harm, but rather an attempt humiliate us in front of dozens of students.

When the LSE security arrived, we were asked to cover our t-shirts or leave LSE premises. When we asked for the rules and regulations we were in breach of, we were told that the LSE was being consulted about how to proceed. After a period of consultation, Kevin Haynes (LSE Legal and Compliance Team) and Paul Thornbury (LSE Head of Security) explained to us that we were not behaving in an "orderly and responsible manner", and that the wearing of the t-shirt could be considered "harassment", as it could "offend others" by creating an "offensive environment". We asked what exactly was "offensive" about the t-shirts, and how the display of a non-violent and non-racist comic strip could be considered "harassment" of other students. Paul Thornbury told us that it was "clearly deceitful" of us to say that we had not intended to cause offence and that we did not feel that we had behaved inappropriately or harassed other students. This unreasonable behaviour of the LSE and LSESU staff caused us serious distress, particularly the allegations that our motives were to "offend" others.

At the end of this conversation, five security guards started to position themselves around our stall. We felt this was a tactic to intimidate us. We were giving an ultimatum that should we not comply immediately, we would be physically removed from LSE property. We made it clear that we disagreed strongly with this interpretation of the rules, but that we would comply by covering the t-shirts. When we covered our t-shirts with jackets, the head of LSE security told us that "this was not enough", and that we had to zip up the jackets. When we zipped up the jackets, we were told that this was still not enough, as the word "prophet" was still visible at the top. After that, the head of LSE security told us that as he believed that we might open the jackets again when was going to leave, two security guards were going to stay in the room to monitor our behaviour. These two security guards were following us closely when we went in and out of the room. We felt that this highly unnecessary and geared at intimidating and humiliating us in front of others.
It's less than encouraging to see this so soon after Reading University's atheist group was banned, for highly similar (if even less inflammatory) behaviour. Combatting racist harassment of Muslims is a worthy goal, and secularists should support it; it is not a worthy basis to censor and silence critical satire of belief – especially in intimidating, humiliating ways which themselves harass.