Of the few encouraging signs about today's PCC elections, one is the total unenthusiasm on display: I know only one person planning to vote, and friends are organising collective ballot-spoils. This couldn't contrast more with Barack Obama's reelection, the run-up to which included all the usual choruses of You must vote! and Don't forget!
By most of the self-declared progressives I know, the choice to abstain was treated almost as a kind of treason; one acquaintance in Australia wishes voting were compulsory around the world, as it is there, and I've heard the same suggested closer to home.
Assuming that when our new police commissioners are chosen, turnout is as miserable as now seems likely, the case for staying at home on national election days is worth contemplating. Traditionally, one argument is that they're not just how people choose specific governments, but how they choose in general to be governed. The most politically important part of voting is entering the ballot box; to step into it is to legitimise the electoral process, granting the eventual winner our consent to govern us, even if it's not them we support. Both in America last week and in 2010, when David Cameron came more-or-less to power, a great deal of coverage went to people unable to vote, left standing in their queues for hours – trumpeting the notion that, whatever government resulted, its right to rule was popularly acknowledged. (In fact, four people out of ten chose abstention in both cases.)
The vote, paradoxically, is always a minister's first port of call when something unpopular needs justifying. Invading Iraq might face widespread opposition, but Tony Blair's party were elected to take tough stances; austerity might be viewed as needless and cruel, but people chose a government to make tough decisions. More than anywhere, and most implicitly, it's with the police that government's entitlement is presumed. Think back to the riots in August last year, with the demands on social networks and in print that lethal force be authorised, or the military contacted. The smashing of shop windows and burning of cars was mindless violence; the potential widespread shooting of citizens by police was a means by which to restore order. Why is the violence of the state the only kind acceptable? Because government directs its forces, and we elected the government.
Our leaders, we tell ourselves, only hold power over us because we say they can. Except sometimes we don't, and they still do.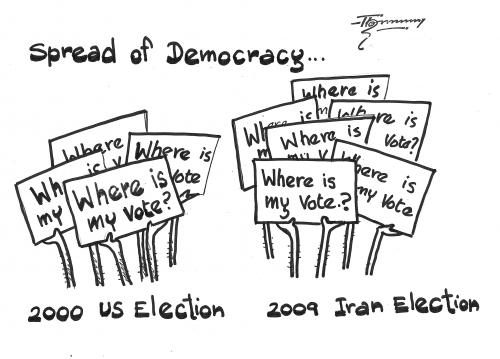 One side might always regret a lost election, but inconclusive ones spell trouble for whole political establishments. That Cameron came so visibly to office by Nick Clegg's direct choice and not the U.K. population's is more than just a point against their government; it exposes the superficiality of Britain's electoral regime, just as it caused skittishness across the pond when George W. Bush entered the White House with fewer people's votes than opponent Al Gore. There are other inadequacies, too. We're encouraged to vote based on politicians' promises, but none of these are binding and most are broken once in office; we're faced typically with a forced choice between two or three realistic candidates, of predictable backgrounds and broadly similar political leanings; what power we're granted, we only hold on one day every four or five years; we've no ability to change our minds, or update the scoreboards as opinions shift – the Labour Party, for example, retains around as many seats as it won in 2010 with 29 percent of the vote, despite polling in the low to mid-forties today; we make our voices heard as much as possible, but see major parties' financial backers drown them out.
Still we go to the polls, encouraged by news broadcasts about democracy and freedom, convincing ourselves that whatever future legislators do, we chose – that, as with all the most effective placebos, we have an investment in it, and no right to complain. However you vote, an English teacher told me once, you always end up with the government, and a socialist truncheon looks much the same as a Thatcherite one. In the past decade, governments of all colours have chipped away at our civil liberties with surveillance and shadowy arrests, no-protest zones and kettled schoolchildren. Far from solving these problems, the electoral cycle seems to me to validate them. Ticking boxes on ballot slips less often demonstrates what freedom we have than makes us feel more complicit in its erosion.
What happens when the police themselves make vaunted, tenuous claims of public appointment? It's from them that government derives its power, after all, and not the other way around.
So far, major police decisions (on whether to fire water cannon at demonstrators, for example) have usually been checked in practice by a need for the approval of elected politicians like Theresa May. If publicly appointed commissioners allow them more autonomy, as seems to be the aim and matches the Cameroon ideal of 'liberated' schools and hospitals, no such external validation will be needed. The shiny if inauthentic seal of electoral support will, on its own, become a means of validating police actions, just as it's used to validate the most despised government policies. The overt parliamentary costuming of candidates, drawn along party political lines and including the likes of John Prescott, adds to the effect.
Political parties, on the other hand, are privately bankrolled. However 'modernising' Conservatives might be, their party's funding depends largely on City of London financiers' approval; however centrified a Labour leader might want to become, trade unions' ire must never be raised. Their ambitions may be extreme, at whichever end of the political spectrum, but the vested interests of relied-upon donors limits their actions for good or ill. Our publicly funded police force, on the other hand, can count on its continued income; should its actions become draconian or its reputation tarred, the threat of financial starvation will never hem it in.
Begin electing police leaders, then, and we give them all of government's entitlements, with none of the drawbacks.
These PCC elections should terrify us all, because they aim to give constables the false legitimacy ministers wield: it's the police force's freedom, not ours, they've been devised to increase, so let's hope for the lowest possible of turnouts, because when police are given more freedom, we almost always lose some of ours.