This is a thread specifically about safety.
This is an open thread for SDCC and the recent story of a minor who was sexually assaulted and left wounded. The other thread is a safe zone and not for discussion. 
For those who are unaware, San Diego Comic Con had a fairly big kerfuffle with regards to personal safety. When I say slight, it became one of the big issues.
Cosplayers have long complained about verbal and physical harassment at cons. The geek community has struggled to deal with women in "nerd-dom" mainly because this is a space that has been heavily dominated by men. We already saw the damage that can be caused by people like Vox Day. 
These places our ours. The places where we can truly be as weird and whacky and wonderful as we all want to be. You want to be a black female Captain America? GO FOR IT! I mean these are comic book fantasies. They aren't meant to be taken seriously. Otherwise most of us would never really be able to participate. Hell, I am Indian. The number of Indian Super-Heroes are incredibly small. I am stuck being Mohinder from  Heroes if we have to be accurate. And even then? I would have to wear a wig. And lose like 20 Kg.
We question women and indeed minorities within our groups. Don't be shocked. I mentioned this as a member of the Atheist and Skeptics community, that my atheism is often called into question based on the notion that my colour of skin lends credence to the notion that I am a double agent for Islam to undermine atheism through writing a blog. Women who are geeks get it too as we saw in the Fake Geek Girlsplosion.
Many women are subject to lewd comments, groping and staring.
Cons should be about celebrating our favorite games, stories and characters freely and without judgment. But for many fangirls, women and LGBTQ cosplayers, going to cons often includes sexual assault and harassment. Comic Con has refused to create a full harassment policy.
The notion was that SDCC has a harassment policy that was too vague and too broadly interpreted. 
This is unacceptable. This is something we want our children and our loved ones to enjoy. I am not dating a geek. Hera is a "normal". I have tempted her into geeky stuff like Game of Thrones and Battlestar Galactica but her closest idea of geek is Big Bang Theory and the popular movies. 
Now think of it this way. This is something we love. Why would you not want it to be a safe space for women. They are entitled to the same stuff we are and the same safety. If a woman chooses to dress "hot" then sure. 
Why would you drive women away from an event and a culture that was once defined by an abject lack of women. Aren't we glad that we are mainstream? That our movies aren't just fantasies or crummy but mainstream blockbusters. I mean holy crap, people are still talking about Heath Ledger's redefining of the Joker. We are no longer weirdoes, we are cool.
And part of that is greater acceptance from groups that once ostracised us and from parts that we never expected. Women have begun to come to these events in greater numbers and they don't feel welcome.
From a purely selfish viewpoint as a man? Why are you trying to drive women who we were desperate for when were kids out of a culture. Do you not remember D&D games where it was just guys ? I remember Warhammer where the only girls we saw made fun of us. Do you not remember having to hide these things if you wanted to have a normal  social  life with others?
We made it big. Sure, we paid a price for some of this. Indiana Jones and Transformers got Shia'd but we benefitted as a whole with serious actors dressing up like our childhood heroes to punch evil space invaders and no longer having to hide the Space Marines from dates.
Women are so desperate to be part of geekdom that they are braving the harassment and the sexism to be part of this. The least we can do is encourage more progressive ideas to be more inclusive. 
The fact remains that we think a skimpy outfit is an invitation to simply grab a woman. We never learn the important words of "Consent, Consent, Consent". Some women do like being grabbed. All women just wish they had a say in who grabs them, when and where rather than just being a carte blanche.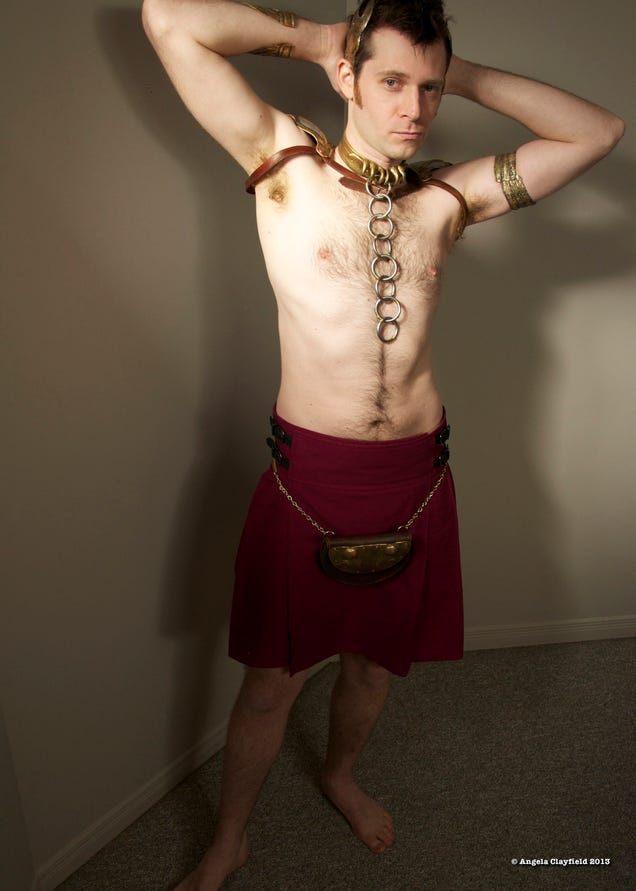 It's quite simple. This is a sexy male outfit. 
Slave Leo, made popular last year. I am assuming he is going Scottish under the kilt. Now imagine if random women groped you and touched you inappropriately. In fact a major issue with wearing the kilt one finds. A lot of women think it's carte blanche to touch  and it is quite uncomfortable. You have to grab a lot of inquisitive hands. 
Now this at a con is more respected than a woman in a Slave Leia costume. In addition? Female on Male contact without consent is rarer than Male on Female contact.
Now needless to say people want these cons to be safe. At least provide some semblence of order in dealing with harassment and a hard set of rudes and guidelines in how to deal with the issue. 
A young girl was attacked at a convention. And in response to that we have this.
I know no one agrees with this opinion, but if you walk around with your ass and tits hanging out like a prostitute, you're going to have to expect that this could happen. Walk into a lion den with a meat suit. Maybe young girls who want to dress like sluts should have the means to defend themselves as well. Or, you know, maybe put some fucking clothes on.I know no one agrees with this opinion, but if you walk around with your ass and tits hanging out like a prostitute, you're going to have to expect that this could happen. Walk into a lion den with a meat suit. Maybe young girls who want to dress like sluts should have the means to defend themselves as well. Or, you know, maybe put some fucking clothes on. – Frank the Tank
Frank when you regard men as nothing but beasts you harm us. You tell us that we cannot control our actions. You make men sound out to be inherently dangerous. We are not lions. We are human beings, and we can say no. And she wasn't dressed like a slut. She was clearly dressed as Rodger Rabbit.
It's simple. If a woman was naked as the day she was born in front of you and did not give you consent to touch her then touching her would be wrong. And if you cannot control yourself then it is you who is the danger rather than her. 
My dog will not eat food unless I give the command. If my dog can do it, so can a human. It isn't hard. Just respect women.
And it doesn't stop you from having sex or having fun. No one is suggesting sex become some taboo thing. You can get sex through consent. Women like being sexy. Men like being sexy. Everyone wants to be sexy, it is just that men aren't likely to cop as much flak as women. And women have precious few characters out there who aren't scandalously dressed. 
I often hold League of Legends as a productive force due to their additions of champions who break trends. They still have some problematic champions but they have gone for the whole gamut of male eye candy too and have tried to make female characters fit into as many roles and archetypes as possible. So while you have Ahri (the fox) who is relatively lightly armoured (and indeed has a skill where she causes enemy champions to run towards her because she bewitches them) it is more due to the fact she is based on a Kitsune and the powers match the mythical creature which does seduce people. Leona by contrast is a tank. A tank who ploughs through a goddamn tree. Kat's an assassin (the one with the knives). 
See even in a progressive game such as this there are women in clothes that are considered skimpy and sexy. People love dressing up as these characters women too. So why punish them for their choices? Especially in a game where people play champions because they like them and not because they associate with the gender? And many women like to dress up in a way that's considered attractive. 
I know women in Saudi Arabia who wear full burkhas but still dress up and wear make up underneath not for other people but for themselves. Because to them it is empowering.
Your argument is the same one people use to dump women into Burkhas. No matter what a woman wears if you don't respect her she will be at risk and sexualised. In general? I find that clothes rarely stop rapists. That if a person doesn't care about consent, they don't really care about about the length of your jeans or how much skirt is below your knee. 
Safety will not come by forcing women out of cosplay but by creating an environment where women are safer to cosplay. Part of that is harassment policies to protect women if things go wrong. Part of it is a change of how we think as male geeks and an encouragement of a culture of consent.
- I am collecting posts from people who have said things excusing and defending the assault of women at conferences or blaming it on the victims.
While I definitely do NOT condone violence, I agree with @FrankTheTank.
Everyone else is just too much of a pussy to step up and say that she should not be going around partying and hanging her breasts out at an all-ages convention. That's some bullshit.

And for both the men women in this thread: It's not about women as a whole being the victim, it's just about ignorance and violence, not about men victimizing women, get the fuck over yourselves and your new-age pseudo-understanding of sexism and feminism.

This sort of cosplay is a joke – It's not even cosplay!!! It's ignorant teens trying to take that same route as the cake-face Jessica Nigri did, and try to get their 15 minutes of fame by flashing their breasts and calling it "cosplay." I'm sick and tired of this shit! If you're dressing up with your breast hanging out, or your frank and beans in a tiny banana hammock without a shirt and pants on, thinking your a fucking funny-ass riot, you deserve to be kicked the fuck out of an ALL-AGES con and banned for life!! Have some fucking respect and recognize that there are parents that are bringing their little kids to an event like this.
Go to the fucking AVNs or start acting in adult films if this is how you are going to portray yourself.

To add to it: after seeing this girl's Cosplay FB page, this girl looks 100% irresponsible, and maybe needs her parent's to step the fuck in and be a little more involved in their daughter's life. I guess now they will be after this.