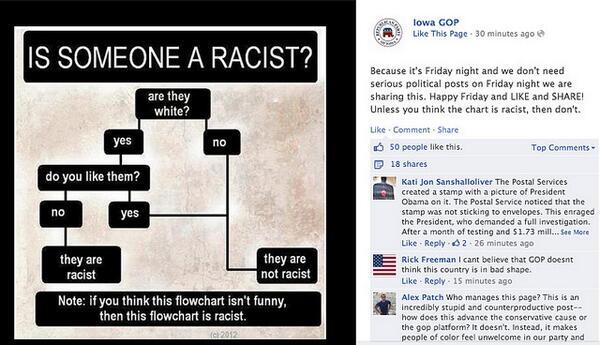 This came from atheists, this was being bandied around as a "see, even the GOP mocks the people who call others racist".
It's simple. Black and Asian racists do exist. However they are not in power. You cannot hold Black racism in Africa or racism in Asia as a reason for White racism in the west. 
The problem is in the west, the majority is white people. There is a systemic cultural domination by white people. The joke is I don't mind cultural appropriation. I don't mind white people partaking in my culture. But any belief of the dominant force that is harmful has a greater effect.
So the anger of Nation of Islam is harmless. Whitey is Satan? Sure. But "black people are criminals" is deadly. Kids have died, innocent kids.
Now the people who believe that aren't racists. They would be horrified if you told them that black people are criminals. But in that split second, "everybody knows" takes over and they do things that harm.
Now there is an atheist problem with racism. We lack minorities. We also have little self awareness. We have individuals claiming that they aren't bullies and that I and  other bloggers are and they will prove it by constantly mocking and harassing us. There are people who claim to not silence women but demand they shut up. Dawkins has demonstrated said self awareness. And there are people who STILL support people like Pat Condell whose support for UKIP has been laughable in recent days (Gays Cause Storms? HA!)
When I complained about racism in the gaming community, I was subject to more racism. We are not talking about "oh you coloureds are too sensitive". We aren't talking about the painful and unfortunately stupid casting choices in movies like Khan (for those who are unaware, Khan's backstory is that he is Indian. This wasn't in the show but in the expanded universe where they fleshed out a very good and liked villain. He was a "superman". The original character was meant to be South Asian but they could not get an actor from the region since Star Trek was not that well known and they still had to keep budgets small so they picked someone who "looked" close enough. In 2013, Khan was played by a white British man.
The Indian Superman is not just White but is British too. This is in context of nearly 2 centuries of British Colonialism in India and the inferiority of Indians and the standard of "whiteness" that to this day makes Indians bleach their skin. It's an ignorant choice. No one said "hang on, the guy's meant to be Indian. I know everyone likes this actor but can't we get someone who is actually looks the part?"
Now I didn't really get insulted, I am used to this. Indians never get represented in comics (DC's changed that with Kiran "Solstice" Singh) or anything in "nerd" literature. The amusing thing is Rajesh Koothrapali is one of the few positive depictions of Indians I have seen out there.
Scary right? It's less of a problem in  British TV where we have tonnes of Indian actors but American TV is still really really white (or really really black or really really latino). You rarely see multicultural casts and even then it's played up as if different cultures cannot understand each other. To these people me attending the Notting Hill festival (Afro-carribean) is as alien as a anglo-saxon visiting me on Diwali. That we possibly cannot get together without problems
A lot of people complained about things like Torchwood to me being filled with white people without realising that in the UK openly Welsh characters often have poor representation. Remember, David Tennant? He's Scottish. His accent is faked. Yeah, there are issues that affect casting choices.
Bigotry exists and it's the dominant culture where mild beliefs and unconscious bigotry makes major differences to people of different cultures. In the UK that can cause issues where Scottish, Welsh and Northern England are poorly represented when compared to Londoners and the South in General. The cultural bigotry that occurs alongside race is what racism basically is, the bigotry becomes visual too and so it's harder to deflect and more voiced since you can clearly delineate.
The Republicans in the USA bemoan the calls of racism. When their party is predominantly white, enforces laws that harm black people and push for the cessation of systems that help negate the poverty divide in the USA which would predominantly affect black people.
Likewise atheists aren't racist. They just don't get racism because they have been a white dominated space for so long so they don't understand why the newbie is getting mad.
When I complained about racism in the gaming community on the game, I was subject to more racism. I reported the incident and nothing came of it. I heard nothing back. When I asked why, I was told "oh just ignore the racists". I don't see white people having to put up with someone shouting "nigger" every 30 seconds.
If it's trolling then it's still racism you know. We want to make you angry you stupid coloured person! So we are going to call you "nigger"! Oh we aren't racist, we like black people! We just like black people who let us call them nigger and not fight back. We don't like angry coloured people.
And when I was told to not make a fuss about this all that meant was "oh stop taking them seriously! No one likes angry coloured people". These were by both, members of atheist communities and by the gaming community in general. I had very little support.
So when we say  there is something racist and you say "it's because I am white and no body likes me" remember that you are more likely to get a job, more likely to fly without denigrating security checks and less likely to be associated with specific crimes. You are not fetishised, you are not expected to achieve and no one turns your culture into a costume. (And yes I know the difference between a white person wearing a sherwani and a white person coming as an Indian). You aren't as likely to be shot out of hand by someone for the colour of your skin and the clothes you wear.
You don't listen to  us when we do talk so atheists of colour keep not talking.