To me there is no greater gift than giving someone a chance at life which they wouldn't have had.
And one of the ways that anyone can do it is through organ donation.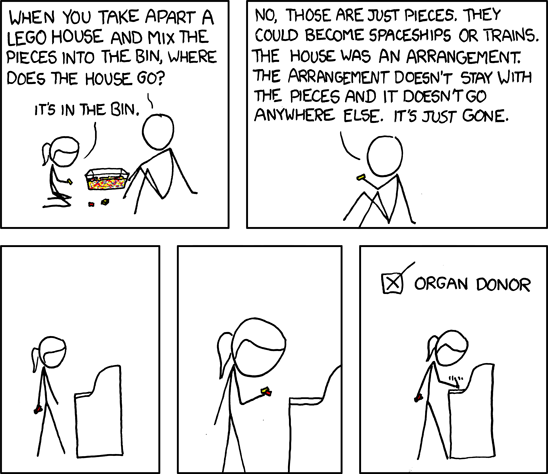 A Bill passed last night making Wales the first British Country to run an opt out system of organ donation. From now on, it is implied that all people have provided permission for organ donation and those who don't wish to donate must state specifically that they do not. They must carry an "Anti-Organ Donation Card" if you will.
I approve of this. I think organ donation should be run via an  opt out system rather than an opt in system. At any point 3 people a year die from the lack of organs. My aunt was one of them. The match with her new Kidney was not a good one but it was the only shot they had.
If we had to make the decision again, I am sure my aunt would take the risk.
An increase in the number of organs is a good thing. Many people agree with donation but fail to get the cards or sign on to the register, many people sign on to the register only to be taken off by family members. An opt out system would get the minority who do not wish to donate out of the system far more easily than the majority who wish to do this.
Naturally there has been opposition…
So who could find fault with a law that makes altruism easier? That gives those desperate for life an unused part of the dead and a second chance?
Christian, Muslim and Jewish leaders (Hindu leaders still are trying to boost donations)…
'If the Bill does not respect either the consent of the deceased or of their family, there is a real risk of this legislation backfiring as people feel pressurised by the state and withdraw from donation." – CARE
I think CARE (A Christian Charity) are foolish. The law is simple. You don't like donating organs? You sign the register and they don't take your organs. Everyone else is a donor. If not donating means that much that you are willing to argue against the law then you have the time to sign the damn register.
And I will say this. There are Christians, Jews, Muslims and Hindus on the waiting list for new organs. Isn't it right to try and give them a chance at life or must we claim that we are the source of all morality  but refuse one of the most simple ways we can all save lives.
Shame on the people who used religious arguments to oppose this.